Harvey One  Harvey the Pooka with Jimmy Stewart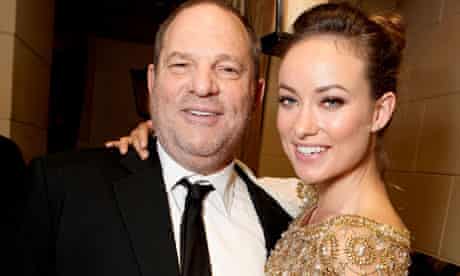 Harvey Two  Harvey Weinstein and Olivia Wilde
There are 3 selections today.  First, The Two Harveys, then a freestyle, then a haiku.  Again, these are for mature readers over the age of 18.
One is a rabbit
Two is a snake
One is invisible
Two is a flake
One is furry
Two is hairy
One eats carrots
Two eats Mary
One wears a tie
Two wears a robe
One likes to bow
Two likes to probe
One is a gentle soul
Two's just scary
One is refined
Two's vulgary
One says please
Two just takes
One says thank you
Two grabs cakes
One hops along
Two strokes his cuke
One is a pooka
Two is a puke
*****************
Robe of terry
Jabba hairy
Octopussychaser
Promises food for
clumps of hydrogen
and helium atoms
Angular chum
Led to the altar
Of the star maker
****************
Corpuscular mogul,
beastly, he needs no full moon —
she's the one who howls.
Bjorn is today's host for dVerse' Open Link Night. 
First published 10/13/17 and now brought back from the archives.  I'd like to tweak it that one is imaginary and one is very real but no time right now.