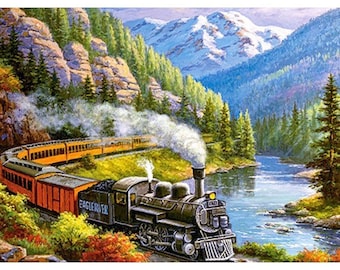 image link
A train, snaking through terrain
Carried passengers along this day
Hailing from many paths on the way
Stopping for passengers and cargo
The travelers got out, stretched so
Regarded landscape to and fro
"An artist's retreat would be perfect for this place!,"
spoke the painter and commune dweller.
"That forest would provide wood to build a city!,"
spoke the developer.
"The land is rich and could feed 1,000 families!,"
said the farmer.
"It's on water, which I need for my chemical factory!,"
said the industrialist.
"It's a perfect place to write about,"
said the author.
"I could buy up this town and build a mansion!,"
said the millionaire.
"Look at that little puppy!,"
said Susie.
"When will the steel horse leave us in peace?,"
cried the whipoorwill.
A train, snaking through terrain
Carried passengers along this day
The village unchanged in its way.
Morgan Dragonwillow (and today's co-host, Michele Vecchito) is the host of OctPoWriMo.  Michele says:
For today's prompt, think about viewing things in a different way. Help us to see what you see and use your words to paint a vivid image.
Word Prompts:
see/seeing
believe/believing
truth
perception
eyes
windows
My offering today is based on the parable of The Blind Men and the Elephant.