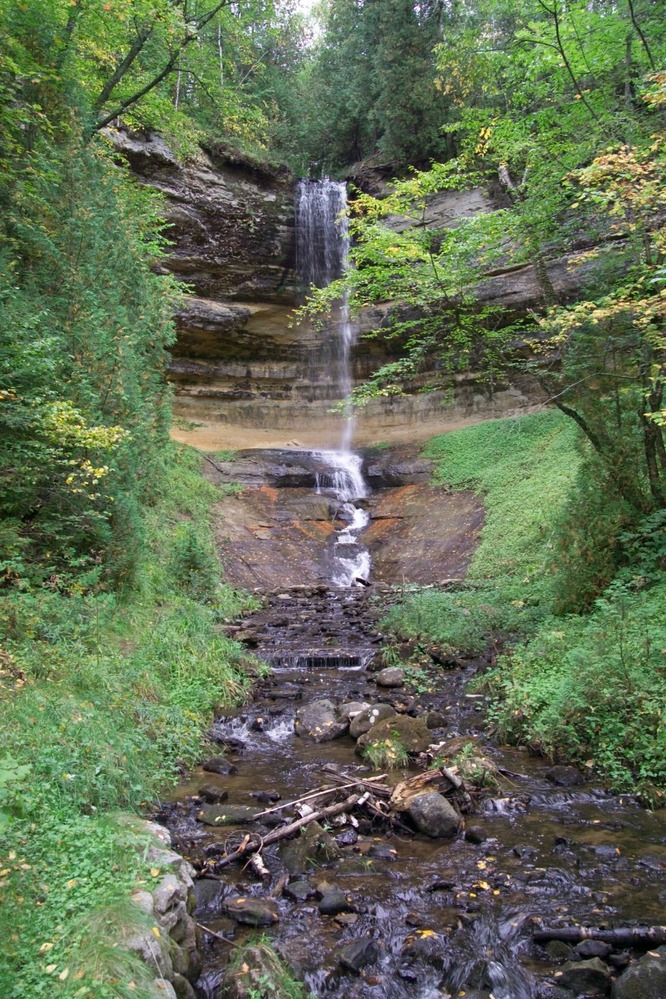 Munising Falls drops over Pictured Rocks escarpment — Dan Johnson/NPS photo
Bright breeze,
though as rustly blanket
Relax summer bee shine
Soft wild color,
Almost a soul that's secret
Why wander to thrive?
Use the fresh night air
and cycle through this
sweet blue dark
Breathe, but come see
if you will feel always
green from forest
Only let pure lake light
wild, lonely
Quiet lichen shade,
deep beautiful brown
beneath a vivid
fertile mountain
with you.
Please note:  going to google to find an image, I put "under a green mountain lichen shade" in the search box.  The top of the list was Lichens — Pictured Rocks National Lakeshore, in Munising, MI.  Munising is in the Upper Peninsula.  I've driven through Munising several times on my way to see my younger son when he was at college and have stayed overnight there once.  I've taken a glass-bottom boat tour out in the bay and saw old, perfectly preserved shipwrecks in the bay, which connects with Lake Superior.  I have never taken the Pictured Rocks tour or the waterfalls self-guided tour — but I need to.  The Oracle is telling me it is time.