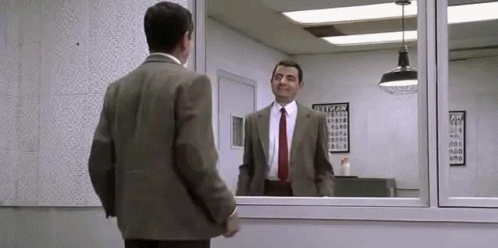 In Whosville, a quiet suburb of Metropolis, on a quiet lane, lived Mara, a voyeur, and Harald, a narcissist. They had been next door neighbors for years. Mara had set up her telescope in the upstairs back room and was able to look into the lives of the neighbors' yards and homes that didn't have occluding structures and/or vegetation. There was a delicious feeling she felt whenever she caught a glimpse of something special, which differed from home to home and person to person. As an artist and a poet, these glimpses gave her much fodder for her work. She wasn't able to look into Harald's house, but she did have an excellent view of his back yard.
Harald was a narcissist of the worst kind, or best, depending on how you look at narcissists. He had a mirror hanging in every room and floor-length mirrors in most of them. He carried a mirror in his back pocket and had a large portable one that he lugged out onto the patio or lawn when he was in his back yard. Harald took good care of his physique and loved to pose in front of his mirrors. Mara loved to watch him pose and had composed a series of poems to Harald's physique.
Where things took a turn is when Harald began to play the harmonica. He was watching youtubes to get lessons, but mastering the harmonica takes time, just as with any skill. Being the narcissist he was, Harald liked to watch himself in the mirror while practicing, and as it was summertime, he often practiced on his patio.
Mara thought Harald looked stupid practicing his harmonica in the mirror. She much preferred his posing. It also sounded horrible as he kept practicing the same cacophonous chords. After a week of it, Mara grew irritated. Looking over at the bowl of walnuts on the table next to her telescope, she opened her window, picked up a walnut, and hurled it at Harald. Having unerring accuracy with her aim, the walnut Mara hurled hit Harald smack dab in the middle of his forehead. Crying out and looking around to see where it came from he rubbed his forehead. The rest of the afternoon Harald spent looking at his forehead to see if it was bruising as Mara watched.
The End.
Fandango's FOWC is differ, the Word of the Day Challenge is glimpse, and Paula's 3 Things Challenge words are narcissist, harmonica, walnut