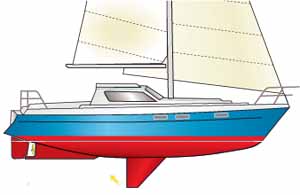 Now
you see
it's where
jaws clench
pressure builds
walking with purpose
down a corridor of doors
opening each one and finding
brick wall, known fail, or detour
unhappy adventure, known outcome
isn't there another hall I can try, or is this it?
Tick-tock-tick-tock-tick-tock-tick-tock-tick-tock-tick-tock
when you were born in a hallway and it's all you know
you don't have the first clue on how to find another
ask for directions but you know how that ends
they don't know your destination, but you do
close your eyes and think hard. Dream it.
To think outside of the box, know box
failure and facing wild unknown vary
they say feel fear and do it anyway
do what needs to be answered
baby steps is a good start
wiggling pink toes and
a guileless giggle
just might do
for a start.
where
do the
steps
lead?
Image link is here.  The keel is the thing sticking out at the bottom of the boat.  Learn more about keels here.
Morgan Dragonwillow is the host of OctPoWriMo.  Morgan says:
Poetry Prompts:
Frustration wells inside, what do you do? How do you handle your frustrations when they stack on top of each other until you feel like you are going to scream? Write for ten minutes while thinking about those questions. Pull one sentence out and write some more, getting to the meat of it.
Word Prompts:
Screaming into the wind
overwhelm
enough is enough
letting go
Suggested Poetry Type: Shape poetry