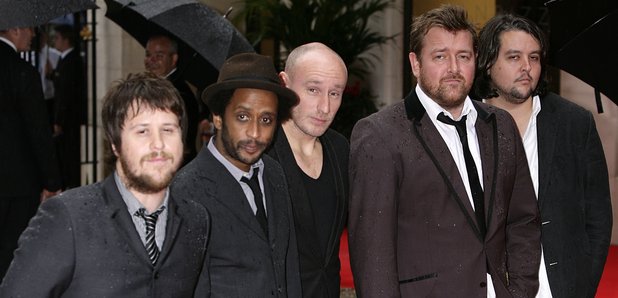 image of Elbow from RadioX website
I heard of Elbow through Steve for the Deaf and again in chapter 16 in the book he recently posted by chapter in its entirety. I borrowed a couple of albums from the library and have listened to them a few times now. The more I listen the more I'm stupified as to why this band isn't a household name. They remind me of a cross between U2 and Peter Gabriel but at the same time they have their own sound. I chose one song from each of the two albums to highlight. The first one is not from the album but it is a more recent adaptation into a duet. You might ask why would I choose this one. The answer is I heard it on youtube and had to share it, it is that good.
Little Fictions is the seventh studio album by English rock band Elbow, released on 3 February 2017 on Polydor Records and Concord Records. Produced by pianist and keyboardist Craig Potter, the album is the band's first without founding drummer Richard Jupp, who had departed from the band the previous year.
"Kindling" is the last cut on this album. As I said, it is "a special re-recorded version of the 'Little Fictions' album track, [which] has been transformed into a duet between Guy and John Grant."
Had a circular saw blade
Where I should have had a heart
I was trusted, I adored her
And I tore it all apart
Twin moons on a millpond
From a tumbledown barn
I can still taste the heat of the sun on her skin in my arms
I could fold to the cold of these
January streets
But your smile in the half-light is
Pure pillow print cheek
I will be far away for a while
But my heart's staying put
Warming and guarding and guiding
The one that I love
Warming and guarding and guiding
The one that I love
The silence and the waiting and the rush of all aboard
Fifty souls to a carriage I'm trying hard to be ignored
Then my telephone shakes into life and I see your name
And the wheat fields explode into gold either side of the train
And the wheat fields explode into gold either side of the train
And the wheat fields explode into gold
Songwriters: Guy Edward John Garvey / Craig Lee Potter / Mark Potter / Peter James Turner
The second tune is from The Take Off and Landing of Everything is the sixth studio album by English rock band Elbow, released in the UK, Europe, and Australia through Fiction Records and Polydor Records on 10 March 2014 and in the US on Concord Records on 11 March 2014.
Originally recorded with the working title of All at Once and then renamed Carry Her, Carry Me after a line in closing track "The Blanket of Night", the band changed their mind shortly before the album's release and settled on naming the album after one of its tracks. Singer Guy Garvey explained, "It's to do with the fact that there have been [so many] life events. There are five members of the band—people have split up, got together, had children. It never stops, this stuff. Especially round the [age of] 40 mark… and yet I wanted to remain celebratory about that. Everybody's feeling relief, with remorse, next to joy, next to loss. But I think laughing very hard and worrying very little is a good way to keep young."
Garvey split up with his long-term girlfriend, journalist and novelist Emma Jane Unsworth, during the making of the album, which led him to revise some of the album's lyrics. Talking about the album's opening track, "This Blue World", Garvey originally stated, "It's almost saying, everything from the beginning of time was leading up to the day we met. So that's very romantic, but something I'm fond of doing, when I'm offering a huge romantic gesture, is to point out the realities as well." After the break-up, he said that the song "was about this mythical mix of ex-girlfriends, it's really about her, it's this prophetic thing. I added some lyrics at the end, about imagining her going on and having a family without me, which is tough to swallow."
For the first time in their career, Elbow did not write the album together as a group, with band members composing songs separately and bringing them to the other members when they were almost completed. Keyboard player and producer Craig Potter was chiefly responsible for "Real Life (Angel)", his brother guitarist Mark Potter wrote and recorded "Honey Sun" at home; bassist Pete Turner composed "Colour Fields" using apps on his iPad; and the rhythm section of Turner, Mark Potter and drummer Richard Jupp created "Fly Boy Blue/Lunette" in the studio in the absence of Garvey and of Mark's brother Craig.
I live and die by the hot and cold in strangers' eyes
But danger lies behind the tape across my door
I know a place where angels lace the lemonade
And I cannot stay where all the broken plans were made
Broken devotion
Can I jump in the gun
And fly over the ocean
Can I jump in the gun
And string up a net across Lafayette
And sing of my deeds while I'm gone
And I'll spin some lies to tell you upon
My return from the ends of the earth
She and I would death defy and promenade
She and I were profligate as de rigeur
She and I were for a Burton Taylor made
She and I won't find another me and her
Broken devotion
Can I jump in the gun
And fly over the ocean
Can I jump in the gun
And string up a net across Lafayette
And sing of my deeds while I'm gone
And I'll spin some lies to tell you upon
My return from the ends of the earth
Oh, love, like a sundown harbor
Oh, love, like a falling bomb
Oh, my love, give her wings and armor
Oh, my love, gotta be long gone
Broken devotion
Can I jump in the gun
And fly over the ocean
Can I jump in the gun
And string up a net across Lafayette
And sing of my deeds while I'm gone
And I'll spin some lies to tell you upon
My return from the ends of the earth
Songwriters: Craig Lee Potter / Guy Edward John Garvey / Mark Potter / Peter James Turner / Richard Barry Jupp