Jim Adams is the reliable host of Song Lyric Sunday.  Jim says:
I am sure that it will be easy to find a song for La being used as this week's prompt.
Here are the "rules":
• Post the lyrics to the song of your choice, whether it fits the theme or not. If it does not fit, then please explain why you chose this song.
• Please try to include the songwriter(s) – it's a good idea to give credit where credit is due.
• Make sure you also credit the singer/band and if you desire you can provide a link to where you found the lyrics.
• Link to the YouTube video, or pull it into your post so others can listen to the song.
• Ping back to this post or place your link in the comments section below.
• Read at least one other person's blog, so we can all share new and fantastic music and create amazing new blogging friends in the process.
• Feel free to suggest future prompts.
• Have fun and enjoy the music.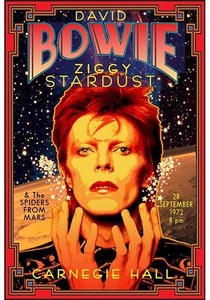 David Bowie as Ziggy Stardust
The Rise and Fall of Ziggy Stardust and the Spiders from Mars (often shortened to Ziggy Stardust) is the fifth studio album by English musician David Bowie, released on June 16, 1972 in the United Kingdom. It was produced by Bowie and Ken Scott and features contributions from the Spiders from Mars, Bowie's backing band — composed of Mick Ronson, Trevor Bolder and Mick Woodmansey. The album was recorded in Trident Studios, London, like his previous album, Hunky Dory. Most of the album was recorded in November 1971 with further sessions in January and early February 1972.
Described as a rock opera and also a loose concept album, The Rise and Fall of Ziggy Stardust and the Spiders from Mars is about Bowie's titular alter ego Ziggy Stardust, a fictional androgynous bisexual rock star who acts as a messenger for extraterrestrial beings. The character was retained for the subsequent Ziggy Stardust Tour through the United Kingdom, Japan and North America. The album, and the character of Ziggy Stardust, were influenced by glam rock and explored themes of sexual exploration and social taboos. A concert film of the same name, directed by D. A. Pennebaker, was recorded in 1973 and released a decade later.
The Rise and Fall of Ziggy Stardust and the Spiders from Mars peaked at number five on the UK Albums Chart and number 75 in the US Billboard Top LPs & Tape chart. It re-peaked at number 21 on the Billboard 200 in 2016 following Bowie's death. As of January 2016 it had sold 7.5 million copies worldwide. The album received widespread critical acclaim. Rolling Stone ranked it 35th on its list of the 500 Greatest Albums of All Time. In 2017, it was selected for preservation in the National Recording Registry, being deemed "culturally, historically, or artistically significant" by the Library of Congress.
"Starman" was the last song written on the album and the first released as a single. "Starman" replaced the cover of Chuck Berry's "Round and Round" when the band decided their album needed a single; it is perhaps the most concrete description of Ziggy's role in the rescue of Earth. The lyrics describe Ziggy Stardust bringing a message of hope to Earth's youth through the radio, salvation by an alien 'Starman'. The story is told from the point of view of one of the youths who hears Ziggy. According to Bowie himself, speaking to William S. Burroughs for Rolling Stone magazine in 1973, Ziggy Stardust is not the Starman but merely his earthly messenger – contrary to received opinion which often paints Ziggy as an extraterrestrial. The song has inspired interpretations ranging from an allusion to the Second Coming of Christ, to an accurate prediction of the plot for the film Close Encounters of the Third Kind (1977.)
The music is in a gentle pop rock vein, featuring prominent acoustic guitar and a string arrangement by Mick Ronson, not dissimilar to the style of Bowie's previous album Hunky Dory (1971.) The chorus is loosely based on Harold Arlen's "Over the Rainbow" from the film The Wizard of Oz, alluding to the "Starman"'s extraterrestrial origins (over the rainbow) (the octave leap on the word "Starman" is identical to that on the word "Somewhere" in "Over the Rainbow".)
Didn't know what time it was and the lights were low
I leaned back on my radio
Some cat was layin' down some get it on rock 'n' roll, he said
Then the loud sound did seem to fade
Came back like a slow voice on a wave of phase haze
That weren't no D.J. that was hazy cosmic jive
There's a starman waiting in the sky
He'd like to come and meet us
But he thinks he'd blow our minds
There's a starman waiting in the sky
He's told us not to blow it
Cause he knows it's all worthwhile
He told me:
Let the children lose it
Let the children use it
Let all the children boogie
I had to phone someone so I picked on you
Hey, that's far out so you heard him too
Switch on the TV we may pick him up on channel two
Look out your window I can see his light
If we can sparkle he may land tonight
Don't tell your poppa or he'll get us locked up in fright
There's a starman waiting in the sky
He'd like to come and meet us
But he thinks he'd blow our minds
There's a starman waiting in the sky
He's told us not to blow it
Cause he knows it's all worthwhile
He told me:
Let the children lose it
Let the children use it
Let all the children boogie
There's a starman waiting in the sky
He'd like to come and meet us
But he thinks he'd blow our minds
There's a starman waiting in the sky
He's told us not to blow it
Cause he knows it's all worthwhile
He told me:
Let the children lose it
Let the children use it
Let all the children boogie
la la la la la la la la la la la la la
la la la la la la la la la la la la la
la la la la
la la
Songwriters: David Bowie