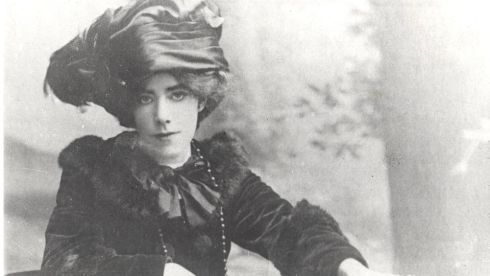 Said Mrs. Thomas McDonagh
Ears awake or drowned with sleep hear wailing
Realize the voice I hear's my own grevious flame
Bound with a rough rope of sorrow in the dark
Round the clock dying, anchored in the dark
You're beneath soil so far away, silently wailing
Lost to smiles and hugs and home hearth's flame
Eyes skyward, "Are you there? My love? My flame?"
'Tis your shell that rests in that distant soil's dark
You're free now, as soon will be I, from endless wailing.
Tales of our wailing shall rise from the dark like flames!
This is Ledwidge's most well known poem, written for Thomas McDonagh, poet, patriot and political activist, on hearing of his execution for his part in the Easter Rising.
THOMAS McDONAGH
He shall not hear the bittern cry
In the wild sky, where he is lain,
Nor voices of the sweeter birds
Above the wailing of the rain.
Nor shall he know when loud March blows
Thro' slanting snows her fanfare shrill,
Blowing to flame the golden cup
Of many an upset daffodil.
But when the Dark Cow leaves the moor,
And pastures poor with greedy weeds,
Perhaps he'll hear her low at morn
Lifting her horn in pleasant meads.
Jane Dougherty is the host of Words and Pictures Poetry.  Jane says:
For the challenge, I propose choosing three key words from the poem, words that strike you in particular, and use them as the end of line words in a tritina, inspired by Ledwidge's poem. The exact rules of engagement with the tritina are here. If you want to join in, just leave a link to your poem in the comments before next Tuesday when I'll post them all.
The three words that jumped out at me were:
Wailing
flame
dark
I wrote this from the perspective of Thomas McDonagh's wife, who died just one year after he did, by drowning. Trying to get to the context of the poem I see that Thomas was buried somewhere other than his community, and I am only guessing the poem is speaking to it (I may be way way off on that.)
Update on 3/21/20:  I added that last one line incorporating all 3 words, which I totally forgot about at time of original posting.