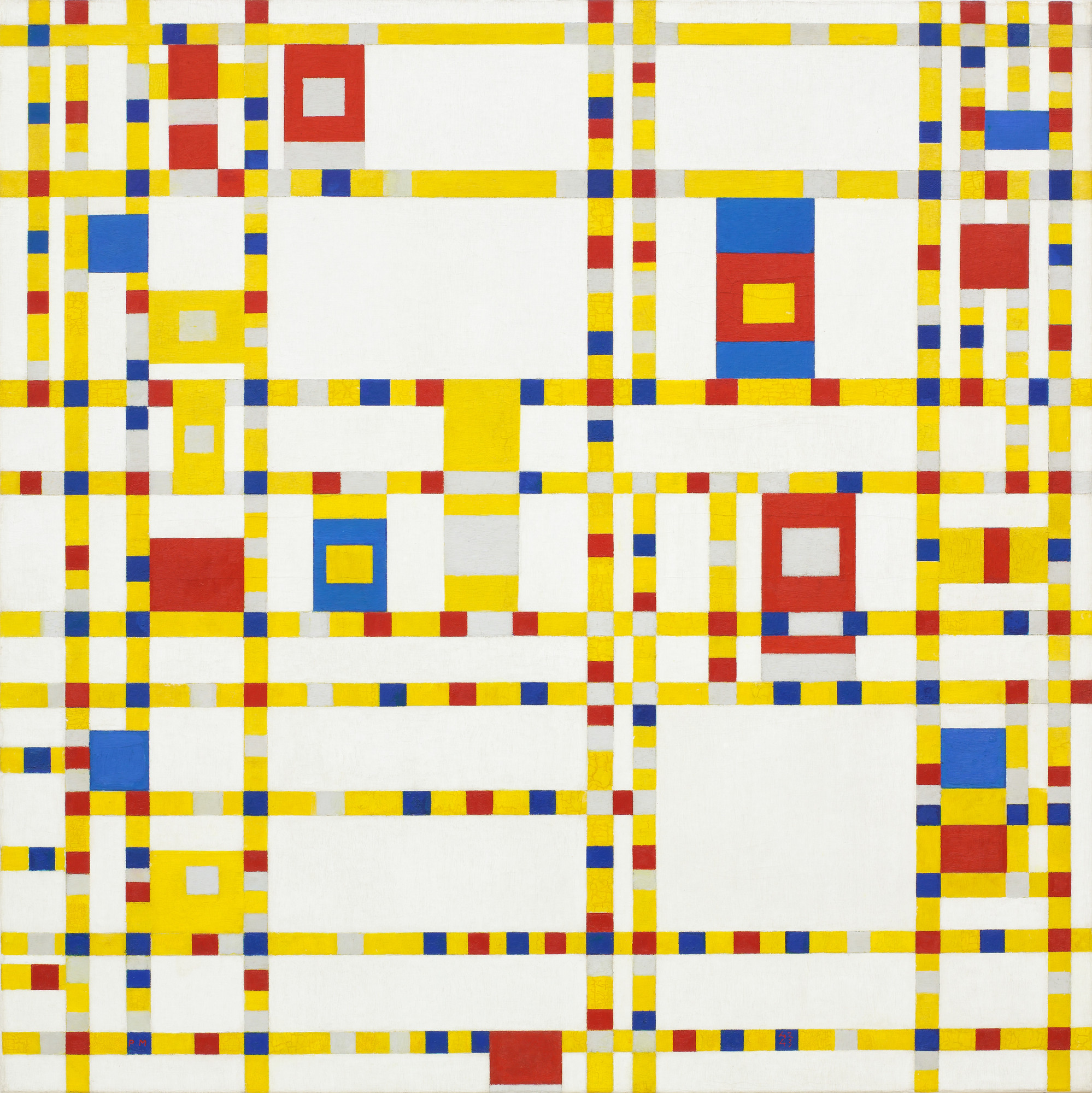 The Pac-Man (and Ms. Pac-Man) game grid is a simple style, one of the first digital games that came out that had a sit down console. I remember back in the 1980s, the fitness club I belonged to had one of them in the juice bar/lounge area. The grid-like design of this piece reminds me of it. In Pac-Man (and Ms. Pac-Man) they travel the pathways being chased by small enemies, where all of the power tabs must be eaten by  "Pac" before they are caught. If they are successful, the enemies turn into ghosts.
The title of the painting, "Broadway Boogie Woogie" is the game of the big city. It's a simple game, really, seeking the golden nuggets – whatever those golden nuggets are to you– while being chased by all manner of dream-killer.
Green square bonus
hard to find on the grid –
Spring always ahead
I first heard Andre Legacy's music after discovering Dirt Nasty's music, as these two guys and Mickey Avalon formed a group called The Dyslexic Speedreaders.  Their song, "My Dick," has explicit lyrics not for the faint-hearted, but it is such a good song.  Listen at your own risk.
Why am I telling you this?  Andre Legacy has a song on his self-titled CD called, "Mondrian."  I am including it here, with lyrics, but if you are sensitive to sexually explicit terms, please stop reading and listening now.  I love the song and see it as poetry, as it paints a vivid picture.
[Hook]
If the music's too loud, then call the cops
You can call me to set the party off
Andre got all the out of towners sayin'
Which way to the Mondrian?
Which way to the Mondrian?
This way to the Mondrian
Baby, I'm addicted to friction
Grab your hips, switch the position
Leave a stain on the dancefloor drippin'
While your man in the bathroom sniffin'
Don't you know I got a girl at the crib
Cryin', bout the shit I did
Last night with some other bitch
Up at the crib suckin' dick for hits
Cause she saw me with the Cisco kid
Sippin dawm with her drugged out friends
2 o'clock, jump in the Benz
3 o'clock, hit the skins
4 o'clock, drop you off
Then back to the spot, set the party off
Bacardi raw like Mardi Gras
With a Haagen Dazs morphine lollipop
[Hook]
I ain't on the list but my bitch is
Six inch tips, tits delicious
Legacy, chucks and khakis
Don't front, take me to the back please
After that straight to the backseat
Smoking crack with Av and Dirt Nasty
Cause Andre will fuck your madre
While she do my laundry
Fluff and fold cuff to hold
Ash on the back with a Marlboro
Might look easy but it's hard to do
An ounce of blow in the afternoon
Cooking that coke on the barbecue
With a Barbie doll model and her daughter too
[Hook]
Your man roll up in the place to be
12 inch rims on his Ferrari
I got 23s on the Honda
With a drunk ex-model, bumpin the Jane Fonda
Avocado green
White pin stripes, wheels clean
I got 'em spinnin' like "Damn, who's with 'em"
Walk up in the club with some chicken
And I'm talking KFC
Legacy don't bring sand to the beach
Your man tried to take my seat
So I backhand slapped him to the beat
Learn about Pac-Man and Ms. Pac-Man.
Kim from North Norfolk is today's host for dVerse.  Kim says:
For this challenge, I ask you to study the image carefully and write about what or how it makes you feel. Does it remind you of Broadway in New York, or another Broadway in a different town or city? Or does it make you think of something else?
Aim to write no more than three tight paragraphs, followed by a traditional haiku that includes reference to a season.