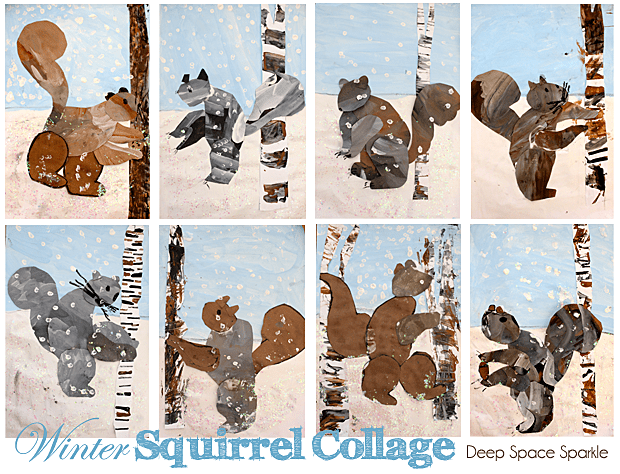 Armed with a Canon's telefoto,
sturdy-soled hikers, and a canteen
I march forward, led by sun-crackled
cottonwood and half-ground beech.
Squirrel hunting in the mountains
means tracking under treelines,
craning for oak-nest
and pine-needled apples.
Mid-winter Sol stirs their bellies;
groggy they crawl, head first.
Aboriginal-headed, the many-pelted,
silvered, burnt-oranged, blacked
coat warms me, but wool works
as I trudge white tracks back
to build a mighty slide show.
image link leads to instructions for building your own winter squirrel collage
Sarah is today's host for dVerse' Poetics.  Sarah says:
I want you to choose from one of these titles:
Travelling in the wilderness
She said if a red fox had crossed somewhere, that area was safe
They say only the south wind flattens grass
We are teachers to our grandchildren
Lead dogs are very smart
Squirrel hunting in the mountains
A story of when the ice detached and the people floated away.
All of these lines come from "Surfacing" by Kathleen Jamie…Jamie herself has borrowed these lines. They are headings from the works of Ann Fienup-Riordan, who has spent her professional life gathering the stories of the people of Quinhagak.