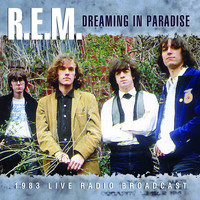 Today's post will be dual purpose. First purpose is a song that strikes a chord with me. It's called, "World Leader Pretend" by R.E.M. This one has a caveat in that it is striking a chord with me at this moment. The week has been full of mostly downers, and it reflects my current mood. As much navel-gazing that's been done over the years, the roots of the feelings are no secret. It feels like I'm a big balloon that has had a slow leak ever since the pandemic started restricting everything and continues as it continues to kill.
The wall is going up. Second purpose is to say I'm on blogging vaca from now until Monday at least. My house needs to get cleaned. It looks like a tornado went through here. I need to do some collage work. Don't worry about me. I just need some respite. See you on the flip side.
World Leader Pretend by R.E.M.
I sit at my table and wage war on myself
It seems like it's all, it's all for nothing
I know the barricades
And I know the mortar in the wall breaks
I recognize the weapons, I used them well
This is my mistake
Let me make it good
I raised the wall and I will be the one to knock it down
I've a rich understanding of my finest defenses
I proclaim that claims are left unstated
I demand a rematch
I decree a stalemate
I divine my deeper motives
I recognize the weapons
I've practiced them well, I fitted them myself
It's amazing what devices you can sympathize (empathize)
This is my mistake
Let me make it good
I raised the wall and I will be the one to knock it down
Reach out for me and hold me tight
Hold that memory
Let my machine talk to me, let my machine talk to me
This is my world and I am world leader pretend
This is my life
And this is my time
I have been given the freedom
To do as I see fit
It's high time I've razed the walls that I've constructed
It's amazing what devices you can sympathize (empathize)
This is my mistake
Let me make it good
I raised the wall and I will be the one to knock it down
You fill in the mortar
You fill in the harmony
You fill in the mortar
I raised the wall
And I'm the only one
I will be the one to knock it down
Songwriters: Bill Berry / Peter Buck / Michael Mills / Michael Stipe