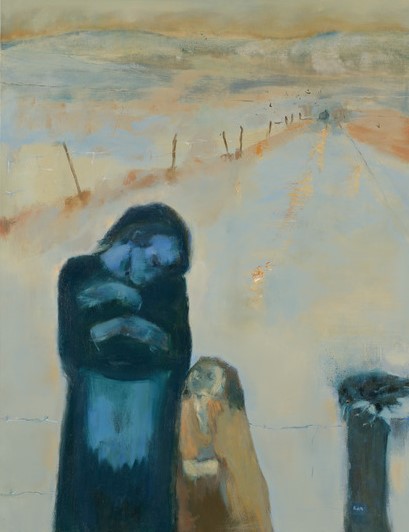 Sometimes the great bones of my life feel so heavy,

by Mary Oliver, from from Spring Azures from the book Wild Geese
Sometimes the great bones of my life feel so heavy, especially on the nights I hear them, moaning and scratching at the windows. It's the coldest January on record. I've unlocked the outbuilding, where they have set up ramshackle lodging amongst the chicken-smudged hay and battered tarps. Nearby trees have been stripped of limbs, fenceposts and deadwood gathered, and the old wooden swing was burned weeks ago. They are careful not to burn the building. Where would they go?
It's hunger that brings them to the barred windows. The little ones, in meager rags, are the worst. Black dots stare from gaunt white faces.
An armored vehicle delivers groceries weekly. When my pension allows it, I buy extra. I cook a great pot of rice and lentils and set it outside. The pot is always returned shiny clean.
This week, the groceries didn't arrive.
[144 words]
image:  "Abandonment" by Charlotte Kelly, created 2011.
Linda Lee Lyberg is today's host for dVerse' Prosery. Linda says:
Write a story of 144 words or less (not including the title). The story must have a beginning and an end, and should not be poetry. Sounds easy enough right? Here's the twist: You must use the poetry line I have given you within your story. You may alter the punctuation, but you must use the line in its entirety.