Oh When Will Autumn Moon and Spring Flowers End (The Beautiful Lady Yu) ~ Li Yu
(my reinterpretation of Li Yu's poem, using the same title)
Please clouds, veil Venus // winds, strip stems!
Fragrant petals now a biting blinding snow
Evening's wander un-dammed floodgates //
time's remembered joys
Season's rendezvous // forbidden pools //
yesterday today's woe
Warm // velvet curtains hushed // urgent cushioned sighs
Cool // sandpaper walls echo // piteous ragged lows
How many ghosts // sweet rotting arms // must call?
Endless stream, hungry shadows laugh // dance, aglow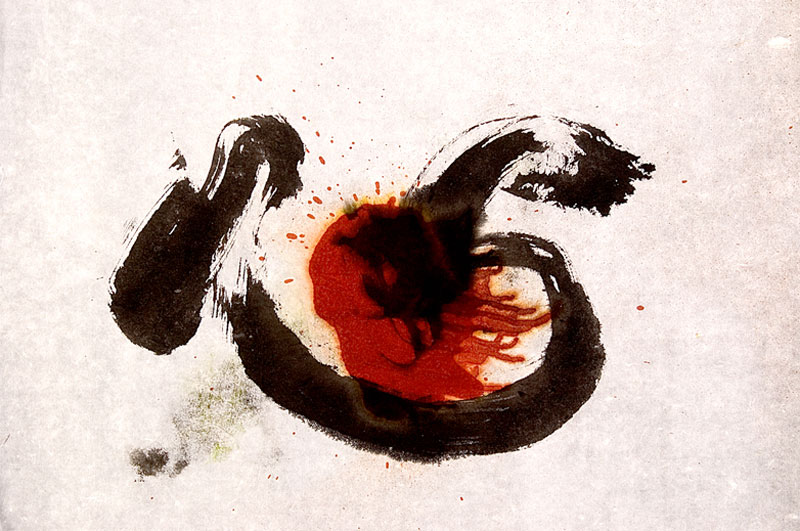 I chose to re-interpret Li Yu's:
Oh When Will Autumn Moon and Spring Flowers End (The Beautiful Lady Yu)
Oh when will autumn moon and spring flowers end?
How many past events I've known.
The east wind buffeted my room again last night,
I cannot bear to remember the bright moon of the old country.
The marble steps and carved balustrades must still be there,
The people's rosy cheeks are all that's changed.
How much sorrow can one man have to bear?
As much as a river of spring water flowing east
Top image is, "Red Bay," (2016 – 2017) by Elizabeth Magill
2nd image is, "Heart," by Marlow Brooks
Laura is today's host of dVerse' Poetics. Laura says:
Select any ONE of the above poems [I chose the one above] and with as many re-reads as you need, imagine what the poet has painted, what impressions are conveyed. Then:
—re-interpret the poem in the Chinese LUSHI style
•eight lines long of couplets – The first couplet should set-up the poem; the middle two couplets develop the theme, the final couple is conclusion
•each line must have the same number of words, either 5,6, or 7.
•a mono-rhyme is on every even numbered line
•Caesura (a pause) should separate clauses.
Whichever style you choose you should:-
•use the same title
•not re-use more than a very few of the poet's words
•cite the poem & poet of your choice either at the end of your post or parallel with your own poem.