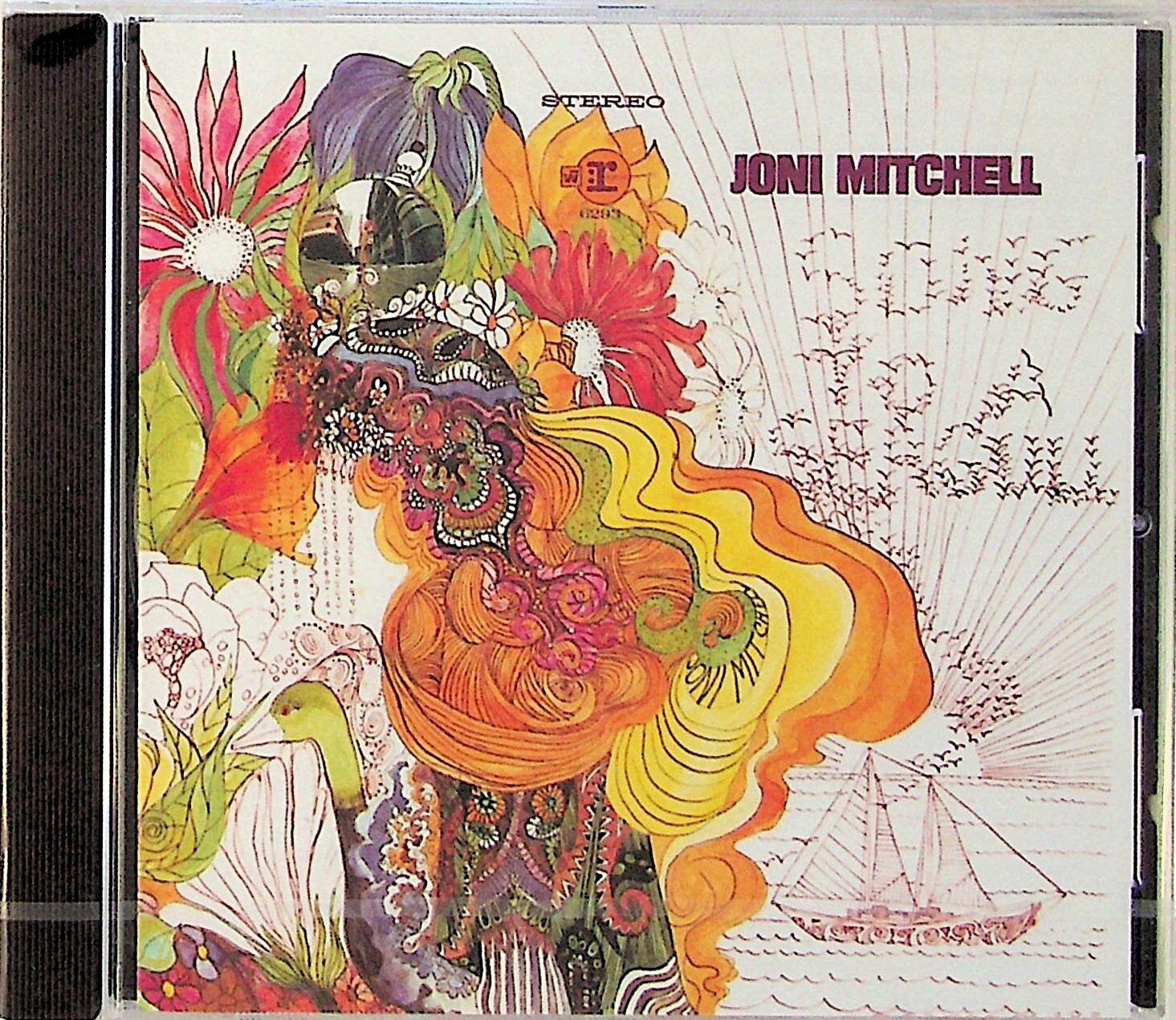 (corrected) album cover, "Song to a Seagull"
Here we are, at the tenth and final round of the 2021 Hanspostcard Song Draft. It has been a pleasure sharing my favorites with you all and a delight to listen to your choices and learn more about them. For my last choice, again, it is one of those take a dart and throw it at the board with a zillion favorite artists on it and then share the choice. This time the dart landed on Miss Joni Mitchell. With artist chosen, next which song? Not easy, but here is one in my top ten.
"Cactus Tree," is the last cut on Joni's debut album, "Song to a Seagull," released on March 23, 1968. Joni had written songs that were hits for other artists (e.g., "Both Sides Now" and "Chelsea Morning" by Judy Collins and Dave Van Ronk, "Eastern Rain" by Fairport Convention, "Urge for Going" and "The Circle Game" by Tom Rush), but none of those songs were recorded for her debut.
Song to a Seagull was recorded at Sunset Sound in Hollywood, CA, during the later part of 1967; David Crosby was assigned as producer as part of the deal with Reprise Records. Crosby wanted Joni to sound pure and natural, so he asked her to sing into the studio grand piano and set up extra microphones to capture her voice reverberating off the strings; unfortunately the set-up captured too much ambient noise, resulting in excessive tape hiss, which could only be removed post-production at the cost of the high sounds in the audio range, which gives the album a flat feel.
Original vinyl recording:
https://youtu.be/5xzLdma6m20

On April 8, 2021, Rhino Entertainment, the catalog arm of Warner Music Group, announced that a new mix of the album overseen by Mitchell and mixer Matt Lee would be released on June 25, 2021 as part of a special remaster collection comprising the singer's first four albums. Commenting on the quality of the original mix, Mitchell called it "atrocious" and said it "sounded like it was recorded under a Jello bowl." The remastered collection is part of the ongoing Joni Mitchell Archives project.
Remastered version from 2021
https://youtu.be/myeJYtiKJR0

The recording method wasn't the only thing that was flubbed. The cover art, painted by Joni, wasn't captured correctly. Nobody noticed that the seagulls were spelling out the title and chopped part of it off. It looks like at some point it was corrected if the CD case cover is accurate.
Fortunately we didn't need to wait for Rhino in 2021 in order to hear a good version of the song. The Miles of Aisles version was the first one I heard and it is my favorite.
Miles of Aisles" cover
Miles of Aisles is Joni's first live, 2-LP album, released in 1974 on Asylum Records. This was her first tour with backing musicians; prior to this she had generally performed solo and had never organized a tour with a band. She hired an already existing group, the jazz fusion band L.A. Express, members of which had appeared on her previous studio album, Court and Spark, the biggest commercial success of her career. The album contains many of her best-known songs up to that time, but only one track derived from Court and Spark and neither of its two hit singles, "Help Me" and "Free Man in Paris".
While researching for the write-up, I learned that all tracks for Miles of Aisles except two were recorded at the Universal Amphitheater in Los Angeles, August 14 to 17, 1974. "Cactus Tree" was recorded at the Los Angeles Music Center on March 4, and "Real Good for Free" at the Berkeley Community Theater on March 2. Up until today I believed the album was recorded at the location of the cover photo, which is Pine Knob Music Theater in Clarkston, Michigan. It's a big disappointment to me to learn that it wasn't.
From Joni's website, she says this about the song:
Cactus Tree was written on October 12, 1967. Joni introduced it this way on that date at the Second Fret in Philadelphia:
Three nights ago I went to a movie in New York City – a Bob Dylan movie. The new Bob Dylan and Joan Baez live feature movie [ed: Don't Look Back]. And I'd never seen Dylan perform, you see, so I wondered why David Blue and Eric Andersen, though they were supposed to be imitators of Dylan, neither one of them were alike and I found out that Eric has Dylan's sense of humour and David Blue is his grouchiness. At least that is in my humble opinion. But, uh, I'm about to be influenced by Mr. Dylan. You see, I'm late to this and everybody who started out as songwriters, at this point has been influenced by Mr. Dylan. Well, to this point, I don't think I have. At least, I haven't noticed. This is, by the way it's a photograph of me, but it's not intended to impress you. It's a cue card for me. This song I just wrote today, so if you notice the melody sort of varies from verse to verse it's because I haven't really decided on a few things so I'm throwing them all out at you. Every time I hear whispering, I'll take that part out. 'Doesn't hold their attention there'…
The song resonates for me as it is the journey of a woman who is enjoying her freedom but she also understands that she pays a price for it.
"Cactus Tree" has been covered by 39 other artists.
Miles of Aisles live version
https://youtu.be/UfcIzBQ0Zrk

There's a man who's been out sailing
In a decade full of dreams
And he takes her to a schooner
And he treats her like a queen
Bearing beads from California
With their amber stones and green
He has called her from the harbor
He has kissed her with his freedom
He has heard her off to starboard
In the breaking and the breathing
Of the water weeds
While she was busy being free
There's a man who's climbed a mountain
And he's calling out her name
And he hopes her heart can hear
Three thousand miles he calls again
He can think her there beside him
He can miss her just the same
He has missed her in the forest
While he showed her all the flowers
And the branches sang the chorus
As he climbed the scaley towers
Of a forest tree
While she was somewhere being free
There's a man who's sent a letter
And he's waiting for reply
He has asked her of her travels
Since the day they said goodbye
He writes "Wish you were beside me
We can make it if we try"
He has seen her at the office
With her name on all his papers
Thru the sharing of the profits
He will find it hard to shake her
From his memory
And she's so busy being free
There's a lady in the city
And she thinks she loves them all
There's the one who's thinking of her
There's the one who sometimes calls
There's the one who writes her letters
With his facts and figures scrawl
She has brought them to her senses
They have laughed inside her laughter
Now she rallies her defenses
For she fears that one will ask her
For eternity
And she's so busy being free
There's a man who sends her medals
He is bleeding from the war
There's a jouster and a jester
And a man who owns a store
There's a drummer and a dreamer
And you know there may be more
She will love them when she sees them
They will lose her if they follow
And she only means to please them
And her heart is full and hollow
Like a cactus tree *
While she's so busy being free
Songwriter:  Joni Mitchell
Originally posted on hanspostcard.