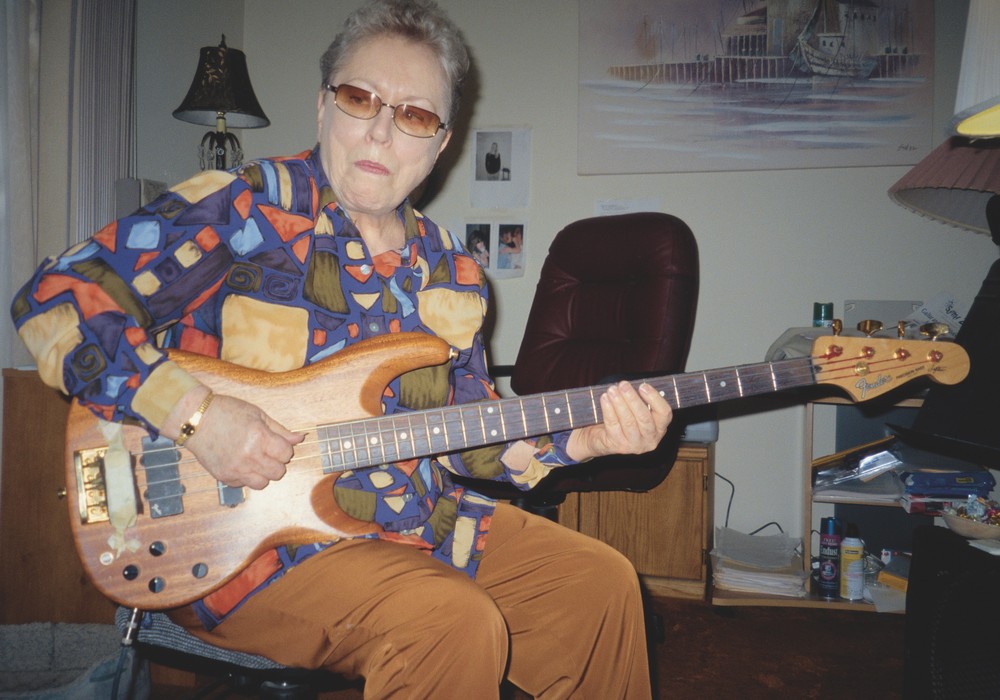 Carol Kaye.  Click on this to take you to a great interview with her at TapeOp
Carol Kaye (née Smith, b. 3/24/35) is an American musician. She is one of the most prolific recorded bass guitarists in rock and pop music, playing on an estimated 10,000 recordings in a career spanning over 50 years.
Kaye began playing guitar in her early teens and after some time as a guitar teacher, began to perform regularly on the Los Angeles jazz and big band circuit. She started session work in 1957, and through a connection at Gold Star Studios began working for producers Phil Spector and Brian Wilson. After a bassist failed to turn up to a session in 1963, she switched to that instrument, quickly making a name for herself as one of the most in-demand session players of the 1960s, playing on numerous hits. She moved into playing on film soundtracks in the late 1960s, particularly for Quincy Jones and Lalo Schifrin, and began to release a series of tutoring books such as How To Play The Electric Bass. Kaye became less active towards the end of the 1970s, but has continued her career and attracted praise from other musicians.
During the peak of her years of session work, she became part of a stable of Los Angeles-based musicians which went by a variety of informal names, but has since become known as "The Wrecking Crew". Her work with the group led to her prominent role in the 2008 documentary film titled The Wrecking Crew.
In 2020, Rolling Stone magazine ranked Kaye number five in its list of the 50 greatest bassists of all time.
Michael Molenda, writing in Bass Player magazine, said that Kaye could listen to other musicians and instantly work out a memorable bass line that would fit with the song, such as her additions to Sonny & Cher's "The Beat Goes On". Paul McCartney has said that his bass playing on The Beatles' Sgt. Pepper's Lonely Hearts Club Band was inspired by her work on Pet Sounds. Alison Richter, writing in Bass Guitar magazine, has called Kaye the "First Lady" of bass playing, adding "her style and influence are in your musical DNA."
Kaye's solo bass line in Spector's production of "River Deep, Mountain High", was a key part to the song's "Wall of Sound" production. The recording is now in the Grammy Hall of Fame. Quincy Jones said in his 2001 autobiography Q that "… women like… Fender bass player Carol Kaye… could do anything and leave men in the dust." Brian Wilson has said that Kaye's playing on the "Good Vibrations" sessions was a key part of the arrangement he wanted. "Carol played bass with a pick that clicked real good. It worked out really well. It gave it a hard sound." Dr. John has said that Kaye "is a sweetheart as well as a kick-ass bass player."
Discography: Kaye played on hundreds of commercially released recordings and soundtracks. This list represents only a small fraction of her recorded performances:
Donna and La Bamba – Ritchie Valens (1958)[33]
Deuces, "T's," Roadsters & Drums – Hal Blaine (1963)
Then He Kissed Me – The Crystals (1964)
You've Lost That Lovin' Feelin' – The Righteous Brothers (1964)
The Beach Boys Today! – The Beach Boys (1965)
These Boots Are Made for Walkin' – Nancy Sinatra (1965)
Summer Days (And Summer Nights!!) – The Beach Boys (1965)
The Very Special World of Lee Hazlewood – Lee Hazlewood (1966)
Batman Theme – The Marketts (1966)
River Deep, Mountain High – Ike & Tina Turner (1966)
Pet Sounds – The Beach Boys (1966)
Parsley, Sage, Rosemary and Thyme – Simon and Garfunkel (1966)
Buffalo Springfield – Buffalo Springfield (1966)
Freak Out! – The Mothers of Invention (1966)
The Beat Goes On – Sonny & Cher (1967)
The 59th Street Bridge Song (Feelin' Groovy) – Harpers Bizarre (1967)
More of the Monkees – The Monkees (1967)
Wichita Lineman – Glen Campbell (1968)
Neil Young – Neil Young (1968)
Nancy – Nancy Sinatra (1969)
With a Little Help from My Friends – Joe Cocker (1969)
Charles Kynard – Charles Kynard (1971)
I Don't Know What's On Your Mind – Spiders Webb (1976)
Shades – J. J. Cale (1981)
The Wilsons – The Wilsons (1996)
Fast Man Raider Man – Frank Black (2006)
Some things to share:
Kaye was born in Everett, Washington, to professional musicians Clyde and Dot Smith. Her father was a jazz trombonist who played in big bands. In 1942, he sold a piano in order to finance a move to Wilmington, California. She later said her father was violent towards her, and she persuaded her mother to separate from him, but music was the one thing that could unite the family.
At age 13, Kaye received a steel string guitar from her mother, and began teaching professionally the following year.
Official website: here
Source: wikipedia