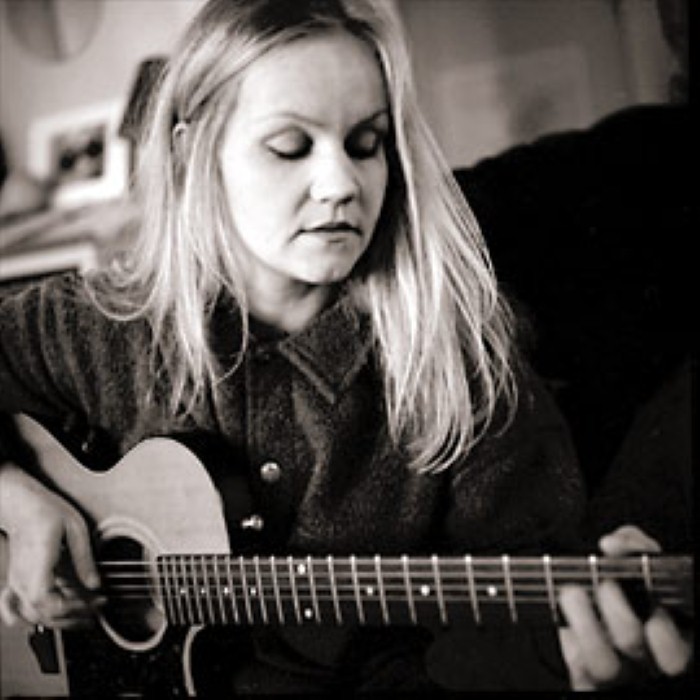 Eva Cassidy
Eva Marie Cassidy (b. 2/2/63 – d. 11/2/96) was an American singer and guitarist known for her interpretations of jazz, folk, and blues music, sung with a powerful, emotive soprano voice. In 1992, she released her first album, The Other Side, a set of duets with go-go musician Chuck Brown, followed by the 1996 live solo album titled Live at Blues Alley. Although she had been honored by the Washington Area Music Association, she was virtually unknown outside her native Washington, D.C. She died of melanoma in 1996 at the age of 33.
Two years after her death, Cassidy's music was brought to the attention of British audiences, when her versions of "Fields of Gold" and "Over the Rainbow" were played by Mike Harding and Terry Wogan on BBC Radio 2. Following the overwhelming response, a camcorder recording of "Over the Rainbow", taken at Blues Alley in Washington by her friend Bryan McCulley, was shown on BBC Two's Top of the Pops 2. Shortly afterwards, the compilation album Songbird climbed to the top of the UK Albums Chart, almost three years after its initial release. The chart success in the United Kingdom and Ireland led to increased recognition worldwide. Her posthumously released recordings, including three number-one albums and one number-one single in the UK, have sold more than ten million copies. Her music has also charted within the top 10 in Australia, Germany, Norway, Sweden and Switzerland.
Discography:
| | |
| --- | --- |
| Studio albums | 6 |
| Live albums | 3 |
| Compilation albums | 2 |
| Video albums | 1 |
| Singles | 7 |
| Remix albums | 1 |
Some things to share:
Born on February 2, 1963, at the Washington Hospital Center in Washington, D.C., Cassidy grew up in Oxon Hill, Maryland, and later Bowie, Maryland. She was the third of four children. Her father, Hugh Cassidy, is a teacher, sculptor, musician, former army medic, and world champion powerlifter of Irish and Scottish descent, while her mother, Barbara (née Kratzer), is a German horticulturist from Bad Kreuznach. From an early age, Cassidy displayed interest in art and music. When she was nine, her father began teaching her to play the guitar, and she began to play and sing at family gatherings.
In 2001, Songbird: Eva Cassidy: Her Story By Those Who Knew Her, a book on the life and work of Cassidy based on interviews with close family and associates, was released in the UK. A US edition published by Gotham Books was released in late 2003 and includes two additional chapters on her influences and success in the US. Her life story has also been adapted into a musical and also a Broadway piece for cancer benefit.
A number of filmmakers have proposed films based on Cassidy's life, and have worked with her family to greater or lesser degrees, but to date these projects have not progressed past the early development stages. In late 2007, AIR Productions acquired the rights to produce a film based on Cassidy's life.
I'm also including a documentary about Eva and the concert that almost wasn't. 
Source: wikipedia