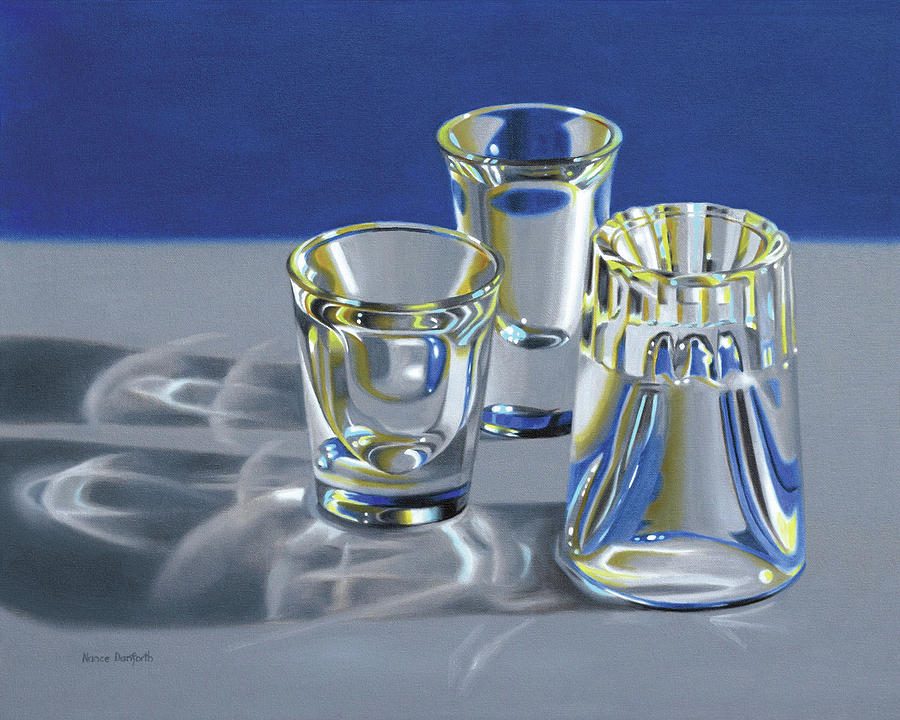 Warm burn seeks out the belly.
If only the shot glass would levitate
away then, how much disintegration
–of relationships, places, and things–
would never be?
How much sleaze, fist would not wound?
How many ravaging truths unspoken?
How many blubbery tears uncried?
How many uncrushed motor vehicles?
Unbroken bones, unmaimed flesh?
How many less court costs and jail time?
How many war crimes unsummed?
How many fewer dates succumbed?
How many of us would not be?
Inhibitions intact, somber celebrations,
and all the rest in our brave new world,*
where everything must be good for us,
collectively; hive-like do-gooders,
cocooned in our un-honeyed combs.
Either extreme, as in all extremes, plays mean.
Why must a walk of moderation stagger us so?
We may never know.
* Brave New World is the title of a book written by Aldous Huxley and published in 1932.
top image, "Shot Glasses," by Nance Danforth
Punam is today's host for dVerse' Poetics. Punam says:
Let's mix poetry into a heady cocktail or mocktail, pour a glass of wine or a dram of whisky or sip it delicately from a china cup or from a sturdy mug, though we do it every time we meet, but let's do it in so many words. Write about your favourite drink (alcoholic/non-alcoholic), write about getting drunk, use drinking as a metaphor, in short: write a poem in a form of your choice with a drinking connection.