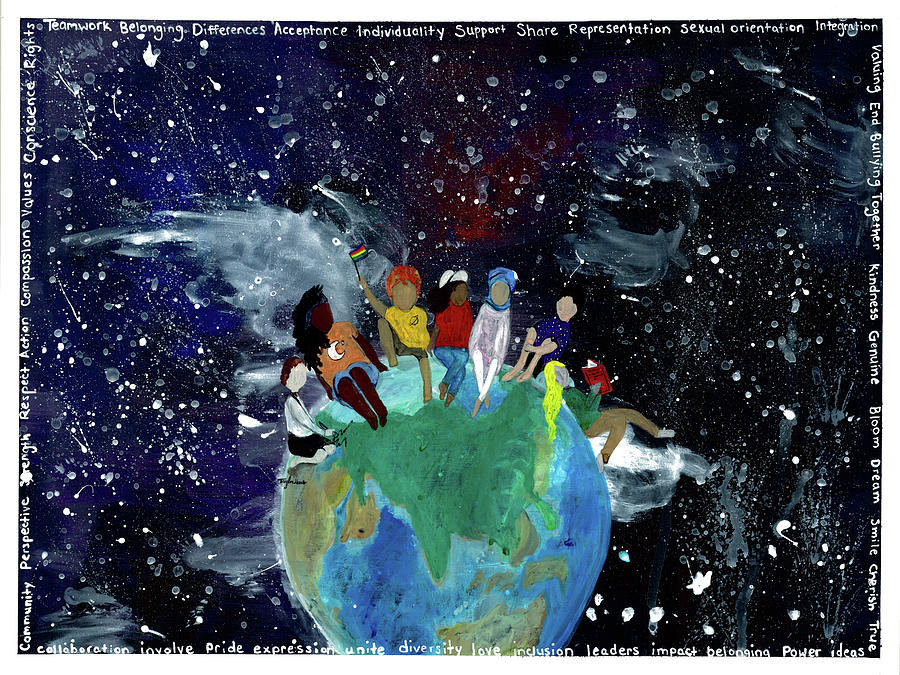 Everything I do is stitched with its color.
– W.S. Merwin, from "Separation"
Epithets were part of my family's lexicon. My paternal side used gentler terms; the maternal side hurled vicious ones with glee. How my family, who lived in shacks, toiled in non-unionized factories, and were blessed to have a rabbit for dinner; and had several gay family members, elevated themselves by verbally obliterating the humanity of others because of the color of their skin or their sexual orientation was a mystery a small child didn't consider.
What I do remember is dissonance watching my mother's friendly behavior when the black cashier rang us up at the store. I remember an uncle living a lie with his cover family until he came out years later.
It's taken decades of conscious effort to "deprogram" myself. Now I understand the power structure's need for "us" and "them" to rule; yet everything I do is stitched with its color.
[144 words]
top image:  "World of Equality" by Taylor Hart
I had totally forgotten the date this was to be posted was Martin Luther King Jr. Day when I put the prompt together. My apologies for not having a theme that speaks to it. Instead my story does.

image link
I am the host of dVerse' Prosery today. I say:
write prose based on [the above] line[s] of poetry. This can be flash-fiction or creative non-fiction, but it cannot exceed 144 words in total (not including the title) and must not be poetry (no versification, line breaks, metre, etc.)