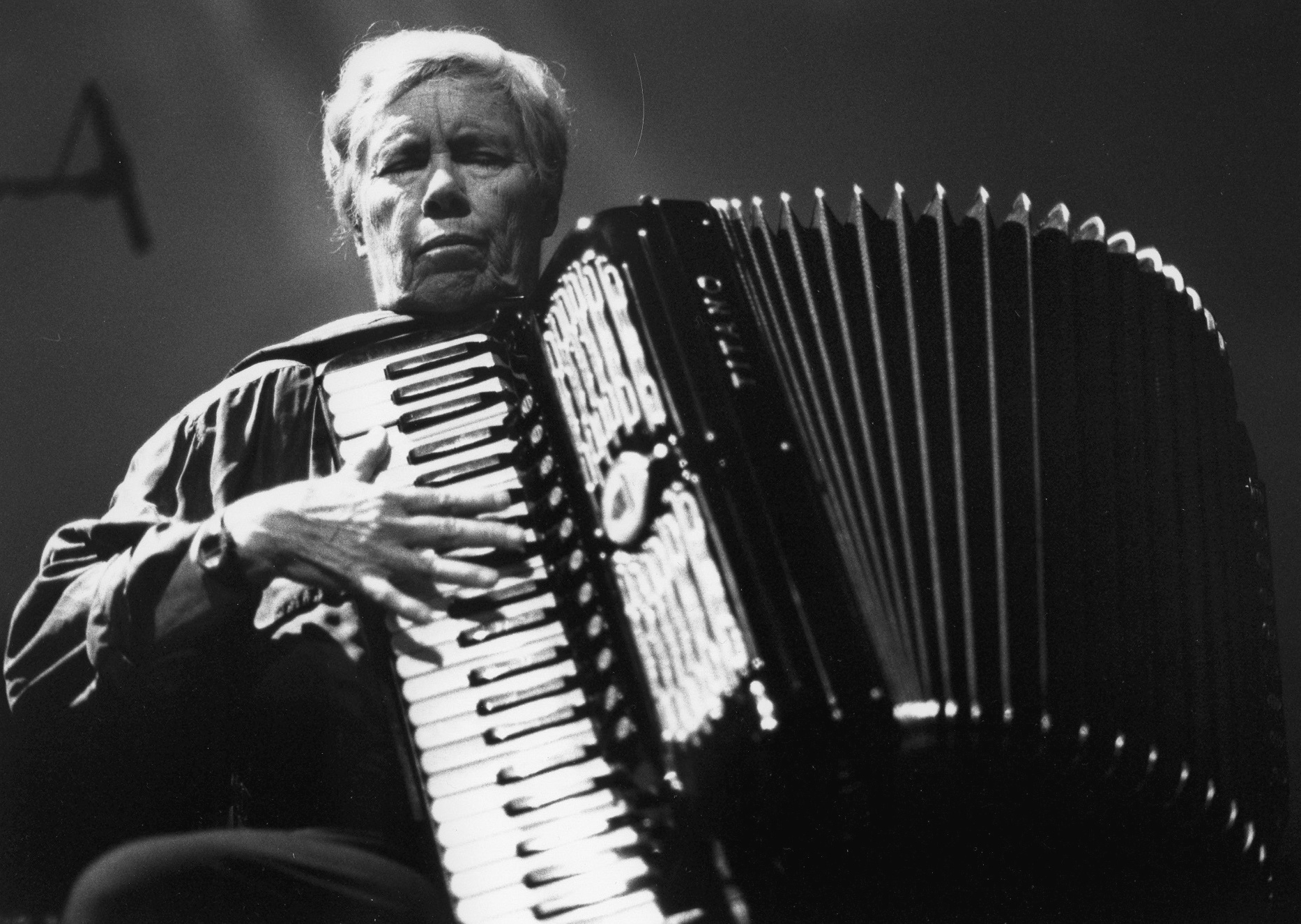 Pauline Oliveros
Pauline Oliveros (b. 5/30/32 – d. 11/24/16) was an American composer, accordionist and a central figure in the development of post-war experimental and electronic music.
She was a founding member of the San Francisco Tape Music Center in the 1960s, and served as its director. She taught music at Mills College, the University of California, San Diego (UCSD), Oberlin Conservatory of Music, and Rensselaer Polytechnic Institute. Oliveros authored books, formulated new music theories, and investigated new ways to focus attention on music including her concepts of "deep listening" and "sonic awareness", drawing on metaphors from cybernetics.
Oliveros arrived in California and supported herself with a day job, and supplemented this by giving accordion lessons. From there Oliveros went on to attend Moores School of Music at the University of Houston, studying with Willard A. Palmer, and earned a BFA degree in composition from San Francisco State College, where her teachers included composer Robert Erickson, with whom she had private lessons and who mentored her for six to seven years. This is also where she met artists Terry Riley, Stuart Dempster and Loren Rush.
When Oliveros turned 21, she obtained her first tape recording deck, which led to her creating her own pieces and future projects in this field. Oliveros was one of the original members of the San Francisco Tape Music Center, which was an important resource for electronic music on the U.S. West Coast during the 1960s. The Center later moved to Mills College, with Oliveros serving as its first director; it was renamed the Center for Contemporary Music.
Oliveros often improvised with the Expanded Instrument System, an electronic signal processing system she designed, in her performances and recordings. Oliveros held Honorary Doctorates in Music from the University of Maryland (Baltimore County), Mills College (Oakland, California,)and De Montfort University (Leicester, England, UK.)
Early Life: Oliveros was born in Houston, Texas.
Musical Beginnings: She started to play music as early as kindergarten, and at nine years of age she began to play the accordion, received from her mother, a pianist, because of its popularity in the 1940s. She later went on to learn violin, piano, tuba and French horn for grade school and college music. At the age of sixteen she resolved to become a composer.
Discography: not the usual discography but details of her work can be found at wiki
One thing to share: In a bit of synchronicity, just today (1/29/23, when I put this together) a brand new documentary is opening.
Weintraub's new feature-length film, Deep Listening: The Story of Pauline Oliveros, [is] a documentary that traces the life and work of visionary composer, musician, teacher, technological innovator, and humanitarian Pauline Oliveros (1932–2016).
Official website: here
Source: – wikipedia