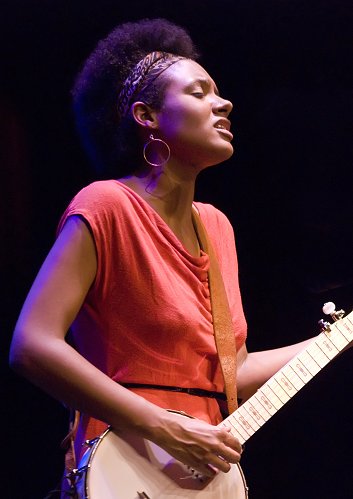 Allison Russell, photo © Robert Liptrot
You can find joy and happiness
even if you have climbed out of horrible circumstances,
— Allison Russell, Rolling Stone interview
Allison Russell is a Canadian singer-songwriter, musician and activist. Prior to her solo music career, Russell performed as a member of various music groups including Po' Girl, Birds of Chicago, Our Native Daughters, and Sisters of the Strawberry Moon. Her first solo album, Outside Child, was nominated for a 2022 Grammy Award in the Best Americana Album category, and the single "Nightflyer" was nominated for both the Best American Roots Performance (Russell) and Best American Roots Song (Russell and Jeremy Lindsay, co-writers).
In addition to her three Grammy nominations, Russell has been nominated for four Canadian Folk Music Awards, two Juno Awards and has been named to the long list for the Polaris Music Prize.
Early Life:
Russell was born in Montreal to a Grenadian father and a Scottish-Canadian teenage single mother. Her mother struggled with postpartum depression and schizophrenia, and Russell was initially placed in foster care. Her mother regained custody of her after marrying a white-supremacist American expatriate. From the ages of 5 to 15, she was physically and sexually abused by her adoptive father. At the age of 15, Russell ran away from home, eventually moving to Vancouver in 1998. She attended Dawson College.
Musical Beginnings:
Russell was initially a member of the Vancouver-based Celtic folk band Fear of Drinking. In 2003, Russell formed the band Po' Girl with The Be Good Tanyas member Trish Klein and recorded seven albums with the band. She formed the music group Birds of Chicago with JT Nero in 2012 and released three studio albums, a live album, and an EP. In 2018, Russell joined the musical collective Our Native Daughters alongside fellow musicians Rhiannon Giddens, Leyla McCalla, and Amythyst Kiah; the group released an album and was also featured alongside the rest of the group in a Smithsonian Channel documentary titled Reclaiming History: Our Native Daughters. As a single, Russell released covers of the songs "By Your Side" by Sade, "Landslide" by Fleetwood Mac, and "Everything I Wanted" by Billie Eilish in 2021.
In March 2021, Russell released "Nightflyer" as the first single from her album Outside Child, followed this up with the single "Persephone," "Montreal" and "The Runner" ahead of the album's full release in May, 2021. The album explores her experiences during her youth, including her recovery from the trauma of her childhood abuse
Solo Discography:
Studio album: 1
Singles: 7
Filmography :
Our Native Daughters was featured in a Smithsonian Channel documentary titled, "Reclaiming History: Our Native Daughters."
Some things to share: per an NPR interview:
Through it all, Russell kept attending her arts-friendly alternative high school, because she treated literature and theater as lifelines. She'd long been drawn to and dreamt up melodies for historic myths, fables, Child ballads and poetic verses she learned from her Scottish-Canadian grandmother or encountered in her own voracious reading.

"It offered me these encoded road maps to survival and freedom," she explains. "I feel that about the oral tradition: I feel that that's the hidden canon. Those are women's songs, mostly, passed on. And it's a distillation of these universal, archetypal human things, human emotions. There's betrayal, there's murder, there's parents being horrible to their children through all of those songs and lullabies. And that helped me process what had happened to me."

From the moment she was invited onstage in an Irish pub to sing an old ballad she knew, Russell found great, if momentary, relief in making music with kindred spirits in the folk scene. "Music was the thing that made the unbearable voices of self-hatred that had been so deeply instilled within me stop," she says.
Official website: here