Jim Adams is the ever-creative host of Song Lyric Sunday.  Jim says:
write about a song that references another group in it.
Here are the "rules":
Post the lyrics to the song of your choice, whether it fits the theme or not.

Please try to include the songwriter(s) – it's a good idea to give credit where credit is due.

Make sure you also credit the singer/band and if you desire you can provide a link to where you found the lyrics.

Link to the YouTube video, or pull it into your post so others can listen to the song.

Ping back to this post will eventually work, as long as you are being patient, but you can also place your link in the comments if you don't like to wait.

Read at least one other person's blog, so we can all share new and fantastic music and create amazing new blogging friends in the process.

Feel free to suggest future prompts.

Have fun and enjoy the music.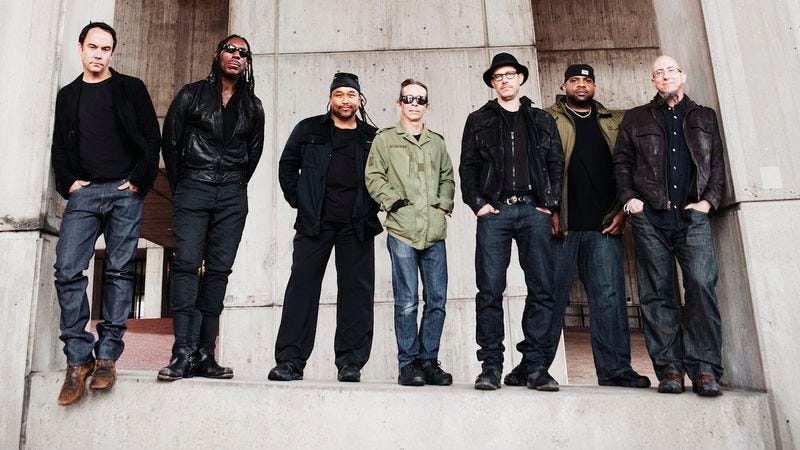 Dave Matthews Band
This song took a little searching which made it that much better when I found it. Good prompt, as always, Jim!  I love this album and have played it innumerable times.

Under the Table and Dreaming is the debut studio album from the Dave Matthews Band, released on September 27, 1994. By March 16, 2000, the album had sold six million copies, and was certified 6× platinum by the RIAA.
Jimi Thing" is a song by American rock group Dave Matthews Band. It was released in 1995 as the second single from their debut album Under the Table and Dreaming. It was first performed in 1991 and has been performed over 1000 times as of July 2015.
MTV News reported on when Dave Matthews and Tim Reynolds played in March 1999 in a New York synagogue for a "Storytellers" taping: "[Dave Matthews] said … it was a temporary song title that stuck. "It was kind of reminiscent of the early days of Jimi Hendrix, and we didn't have any names for any of the songs, so we called it the 'Jimi thing.' "
Lately I've been feeling low
A remedy is what I'm seeking
I take a taste of what's below
Come away to something better
What I want is what I've not got
And what I need
Is all around me
Reaching searching never stop
And I'll say…
If you could keep me floating
Just for a while
Till I get to the end of this tunnel … Mommy
If you could keep me floating
Just for a while
I'll get back to you
Sometimes a Jimi Thing slides my way and keeps me swinging
I'd like to show you what's inside
And I shouldn't care
If you don't like it
Brother chaos rule all about
Sometimes I walk there
Well yes God knows sometimes I take a bus there
Shouldn't care shouldn't care
Bereaved as I'm feeling
The day is gone
I'm on my back
Staring up at the ceiling
I take a drink sit back relax
Smoke my mind make me feel
Better for a small time
What I want is what I've not got
And what I need is all around me
Reaching searching never stop
And I'll say…
If you could keep me floating
Just for a while
Till I get to the end of this tunnel … Mommy
If you could keep me floating
Just for a while
I'll get back to you
Sometimes take a Jimi Thing slides my way and keeps me swinging
I'd like to show you what's inside
And I shouldn't care
If you don't like it
Brother chaos rule all about
Sometimes I walk there
Well yes God knows sometimes I take a bus there
Shouldn't care shouldn't care
Bereaved as I'm feeling

Lately I've been feeling low
A remedy is what I'm looking for, cooking for
So I take a taste of what's below
Come away
If you could keep me floating
Just for a while
Till I get to the end of this tunnel called Jimi
If you could keep me floating
Just for a while
I'll get back to you
Sometime take a Jimi Thing slides my way and keeps me swinging
I'd like to show you what's inside
And I shouldn't care
If you don't like it
Brother chaos rule all about
Sometimes I walk there
Well yes God knows sometimes I take a bus there
Shouldn't care shouldn't care
Bereaved as I'm feeling
Songwriter: David J. Matthews