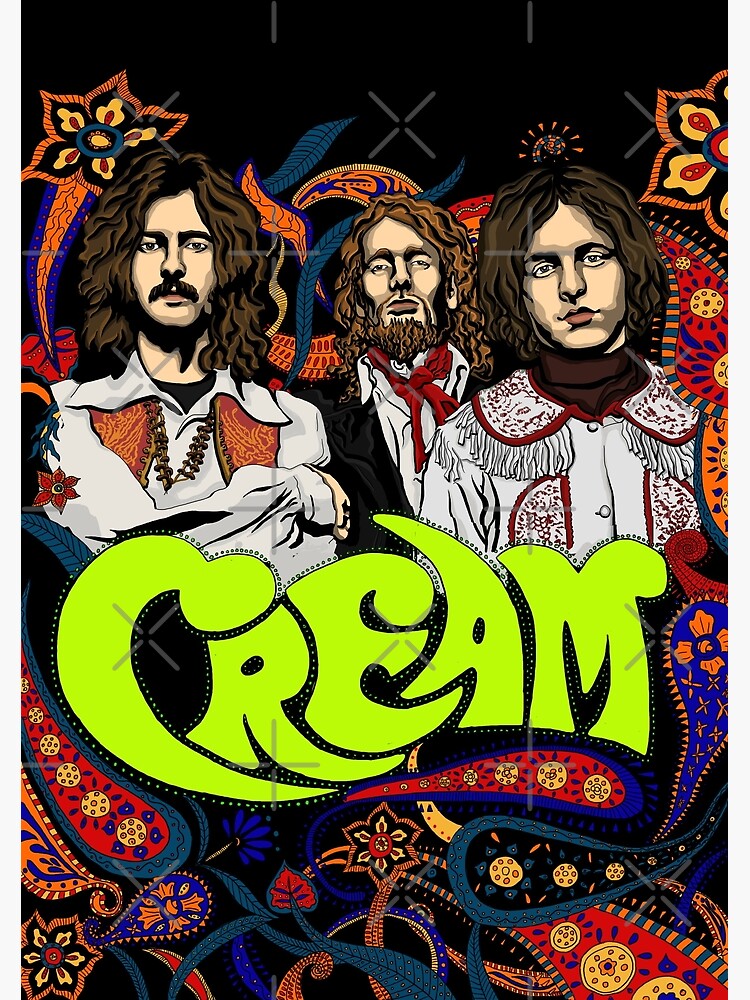 Cream Band, Clapton, no background Canvas Print, designed by Helena Cooper
I'm skipping the coloring for today. Lots of shoulder and arm pain that may be bursitis or may be arthritis. In either case, today's artwork is a cool poster of the musical group, Cream. Over the past two nights I've watched them perform at the Royal Albert Hall and have been thrilled. I can't imagine how those who were there must have felt. There was more than one big-name star in the audience also. I saw Jude Law and Bryan Adams; there were certainly more. I liked the way they filmed it also, where all three of the guys got equal screen time. The chemistry between them and the musical expertise of each one of these individuals is rare. It had been how many years since they played together? Yet they stepped on the stage and went back in time without missing a beat. As I looked for information on the three musicians I learned that the Scottish bass player, Jack Bruce (full name John Symon Asher Bruce,) passed away on October 25, 2014, and the English drummer, Ginger Baker (full name Peter Edward Baker,) passed away just last month on October 6. I hope these two gentlemen are whooping it up in heaven with the rest of the best band that exists — in heaven — right now. I highly recommend anyone who hasn't seen this two-hour concert to make the effort to find it and watch it.
Cream were a British rock band formed in London in 1966. The group consisted of bassist Jack Bruce, guitarist Eric Clapton, and drummer Ginger Baker. All three members sang lead and backing vocals. The group's third album, Wheels of Fire (1968), is the world's first platinum-selling double album. Formed from members of previously successful bands, they are widely regarded as the world's first supergroup. Cream were highly regarded, especially for the instrumental proficiency of each of their members.
In their career, they sold more than 15 million records worldwide. Their music spanned many genres of rock music, including blues rock, psychedelic rock, and hard rock.

Cream were inducted into the Rock and Roll Hall of Fame in 1993. They were included in both Rolling Stone and VH1's lists of the "100 Greatest Artists of All Time", at number 67 and 61 respectively. They were also ranked number 16 on VH1's "100 Greatest Artists of Hard Rock".
Royal Albert Hall London May 2-3-5-6, 2005 is a live album by the British rock band Cream, recorded at the Royal Albert Hall in 2005 during the band's reunion tour. As the title implies, the recording includes songs from their four reunion shows on 2, 3, 5, and 6 May 2005. Within five months of these performances, this collection of recordings was released as separate double Compact Disc and double DVD sets. Two months later in December, a triple LP set was also released, containing tracks identical to the CD set. A Blu-ray version also exists. The album reached #59 on the Billboard 200 album chart on 22 October 2005.
Looking at who wrote the songs, I was surprised to see many were not written by any of them. I wanted to choose a song that hasn't been played to death on the radio, one written by at least one of the three, and one I thought sounded really good in the lovely Royal Albert Hall. I chose Sleepy Time Time, written by Jack Bruce and Janet Godfrey.
Before getting on with the song, I do have to say a few words about Jack Bruce's bass-playing and singing. The man was a MASTER of his craft and may be the best bass player who ever lived. I'm not exaggerating! I went out to find someone who could describe his playing and found John Diliberto's essay at Echos Online and on the Radio:
Bruce's bass playing had the melodicism of Paul McCartney married to the chops of Charles Mingus. He set the stage for musicians like Stanley Clarke and Jaco Pastorius, but unlike them, Jack Bruce was all about the bass, no treble. If you witnessed Cream's reunion concert several years ago at Royal Albert Hall, you heard his mastery of the bass in full-effect as the trio wove their incendiary improvisations, even stronger now than in the 1960s.
Bruce singing alone or harmonizing with Eric Clapton is a thing of beauty. His voice is like no other.
I'm a sleepy time baby, a sleepy time boy.
Work only maybe, life is a joy.
We'll have a sleepy time time.
We'll have a sleepy time time.
We'll have a sleepy time time.
We'll have a sleepy time time.
Sleepy time time, sleepy time all the time.
Asleep in the daytime, asleep at night.
Life is all playtime; working ain't right.
We'll have a sleepy time time.
We'll have a sleepy time time.
We'll have a sleepy time time.
We'll have a sleepy time time.
Sleepy time time, sleepy time all the time.
I have my Sunday, that ain't no lie.
But on Monday morning comes my favorite cry.
We'll have a sleepy time time.
We'll have a sleepy time time.
We'll have a sleepy time time.
We'll have a sleepy time time.
Sleepy time time, sleepy time all the time.
Songwriters: Jack Bruce / Janet Godfrey