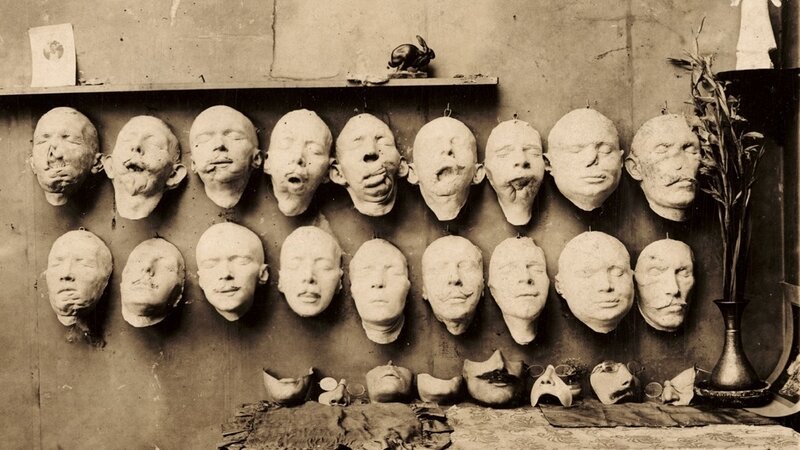 Plaster casts taken from soldiers' mutilated faces (top row), new sculpted faces (bottom row), and final masks (on the table) sit in the studio of Anna Coleman Ladd in 1918. American Red Cross/Anna Coleman Ladd papers/Archives of American Art/Smithsonian Institution
Boys of sixteen ,
knuckles cracking to join
Horse clippered skinheads
Excited clumps, dazed mums
Sergeants crack whips
Jumping hoops for tomorrow
Boarded ships, mess kits
Twenty miles to hell
Trenches stenches
Lice crackled flames
Quicksand muck
Silent sorrows buried
Forty million dead wounded
[44 words]
Note:  They Shall Not Grow Old is a 2018 documentary film directed and produced by Peter Jackson. The film was created using original footage of World War I from the Imperial War Museum's archives, most of it previously unseen, all over 100 years old by the time of release. Audio is from BBC and Imperial War Museum (IWM) interviews of British servicemen who fought in the conflict. Most of the footage has been colourised and transformed with modern production techniques, with the addition of sound effects and voice acting to be more evocative and feel closer to the soldiers' actual experiences.
I watched half of this ~2-hour documentary last night and the rest today. Last Monday was Remembrance Day/Veterans Day, which was first created at the end of WWI on 11/11/18.
De Jackson (aka whimsygizmo) is today's host of dVerse.  De says:
Today, I want you to crack the whip on your muse. Crack a joke. Crack us up. A mirror cracked. A book cracked open. The crackling of a fire. A crack of lightning. A crack of light under the door. The crack of dawn.  Get it? Crack open your pen and give us a poem of 44 words using some form of the word crack.