Twelfth night December's
Iced globe – blue light broadcast
Above and below
Cold moon bounces cross-country
Nature's wordless winter song
---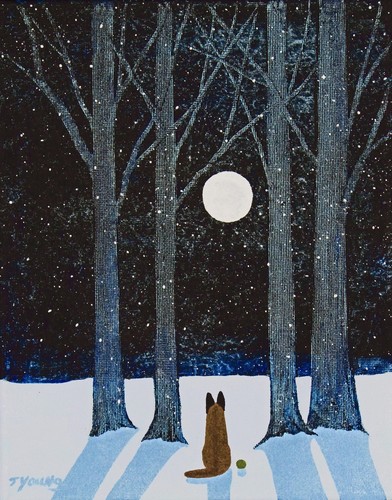 In long night's silence
Winter's moon is small comfort
To cold loneliness
Two castaways, far apart,
Look up and share a warm dream
Frank J. Tassone is the host of Haiki Challenge.  Frank says:
During this month the winter cold fastens its grip, and nights are at their longest and darkest. It is also sometimes called the Moon before Yule.

The term Long Night's Moon is a doubly appropriate name because the midwinter night is indeed long, and because the Moon is above the horizon for a long time. The midwinter full Moon has a high trajectory across the sky because it is opposite a low Sun.
This week, write the haikai poem of your choice (haiku, senryu, haibun, tanka, haiga, renga, etc.) that alludes to this month's full moon, the Cold Moon.
first image courtesy of the Farmer's Almanac
second image "Full Moon" image link here
third image, of girl looking up at full moon link here
Grace is today's host of dVerse Open Link Night, which I am linking these poems to.