Jim Adams is the prompt-slingin' host of Song Lyric Sunday.  Jim says:
This week we have Come/Go/Leave/Stay and I think we will all have fun with this.
Here are the "rules":
• Post the lyrics to the song of your choice, whether it fits the theme or not. If it does not fit, then please explain why you chose this song.
• Please try to include the songwriter(s) – it's a good idea to give credit where credit is due.
• Make sure you also credit the singer/band and if you desire you can provide a link to where you found the lyrics.
• Link to the YouTube video, or pull it into your post so others can listen to the song.
• Ping back to this post or place your link in the comments section below.
• Read at least one other person's blog, so we can all share new and fantastic music and create amazing new blogging friends in the process.
• Feel free to suggest future prompts.
• Have fun and enjoy the music.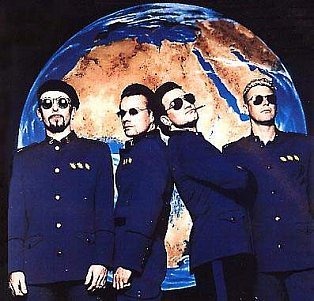 U2, l. to r.: The Edge, Larry Mullen, Jr., Bono, and Adam Clayton
U2's "Zooropa" was not greeted with the same fanfare as earlier albums. Let's face it, "Achtung Baby" is a hard act to follow. I love Zooropa not only for the beautiful music but its dabbling with and commentary on an increasingly technical world. "Stay" is one of my favorites from the album.
Zooropa is the eighth studio album by Irish rock band U2. Produced by Flood, Brian Eno, and The Edge, it was released on July 5, 1993 on Island Records. Inspired by the band's experiences on the Zoo TV Tour, Zooropa expanded on many of the tour's themes of technology and media oversaturation. The record was a continuation of the group's experimentation with alternative rock, electronic dance music, and electronic sound effects that began with their previous album, Achtung Baby, in 1991.
Zooropa received generally favorable reviews from critics. Despite none of its three singles—"Numb", "Lemon", and "Stay (Faraway, So Close!)"—being hits consistently across regions, the record sold well upon release and peaked at number one in multiple countries. The album's charting duration and lifetime sales of 7 million copies, however, were less than those of Achtung Baby. In 1994, Zooropa won the Grammy Award for Best Alternative Music Album.

"Stay (Faraway, So Close!)"  is the fifth track on their 1993 album, Zooropa, and was released as the album's third single. The song reached number one in Ireland and reached the top 10 in Australia, Iceland, the United Kingdom, and several other countries. The music video was shot in Berlin, Germany. The earliest incarnation of the song developed during sessions for the group's 1991 album Achtung Baby. It was written for and inspired by Frank Sinatra and bore his surname as the original working title. An alternative recording was used in the Wim Wenders film Faraway, So Close!
"Stay (Faraway, So Close!)" was well received by critics and nominated for a Golden Globe for Best Original Song. The song made its live debut on the Zoo TV Tour but has only been performed intermittently in an acoustic version over subsequent tours. Members of U2 consider it to be one of their favorite songs; guitarist The Edge named it the best track on the album, while lead singer Bono stated that it was one of their best creations.
I also included this live version because it's really good.
Green light, Seven Eleven
You stop in for a pack of cigarettes
You don't smoke, don't even want to
Hey now, check your change
Dressed up like a car crash
Your wheels are turning but you're upside down
You say when he hits you, you don't mind
Because when he hurts you, you feel alive
Is that what it is
Red lights, gray morning
You stumble out of a hole in the ground
A vampire or a victim
It depends on who's around
You used to stay in to watch the adverts
You could lip sync to the talk shows
And if you look, you look through me
And when you talk, you talk at me
And when I touch you, you don't feel a thing
If I could stay
Then the night would give you up
Stay and the day would keep its trust
Stay and the night would be enough
Faraway, so close
Up with the static and the radio
With satellite television
You can go anywhere
Miami, New Orleans
London, Belfast and Berlin
And if you listen I can't call
And if you jump, you just might fall
And if you shout, I'll only hear you
If I could stay
Then the night would give you up
Stay then the day would keep its trust
Stay with the demons you drowned
Stay with the spirit I found
Stay and the night would be enough
Three o'clock in the morning
It's quiet and there's no one around
Just the bang and the clatter
As an angel runs to ground
Just the bang
And the clatter
As an angel
Hits the ground
Songwriters: Adam Clayton / David Evans / Laurence Mullen / Paul David Hewson