History of Juniper Berry Essential Oil

Greek origins: Juniper was commonly burned in spiritual ceremonies by the Ancient Greeks to combat epidemics.

Medicinal folklore: Juniper Berry Oil has been traditionally used in ancient medicine by various cultures. The Zuni Indians for example used it to assist in childbirth.

Ward off evil spirits: Juniper berries have been used since ancient times to expel negative forces and illnesses. They were believed to cleanse and purify the mind, body and spirit.

–from Decleor
Juniper Berry (Juniperus Communis)
Plant appearance:  a low-growing shrub or 30-foot tall tree with dark blue berry-like seed cones.
What's used for oil: the berries what are used.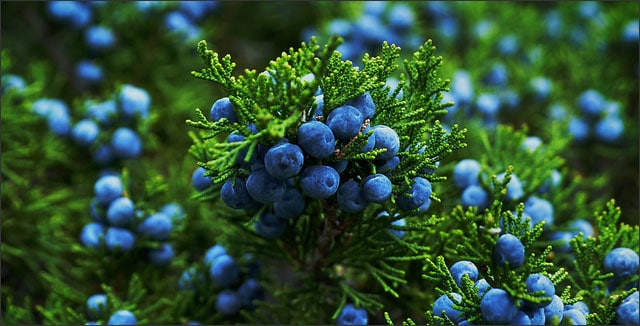 It has been used world-wide for a long time.
Juniper branches are used in spiritual ceremonies in Tibet and First Nations Peoples in America.
Learn more about the First Nations Peoples in America and the juniper here.
Find out more about the Tibetan ceremonies here.
The berries are also used for gin.
Oil appearance: colorless to pale yellow liquid
Therapeutic uses: fluid retention, cystitis, Urinary tract infections, abdominal bloating, menstrual cramps, heavy legs, detoxifying, cellulite, obesity, gout, rheumatism, arthritis, acne, ulceration, eczema, mental exhaustion, chronic fatigue, anxiety, tension.
Precautions: avoid if you have kidney disorders or are pregnant; GRAS

RECIPE
Back Pain Blend
Essential Oils (EO)
black pepper EO 3 drops
ginger EO 10 drops
eucalyptus radiata EO 5 drops
juniper berry EO 3 drops
Mix the above oils together, adding in the order listed. Roll bottle gently in hands to blend.
Dilute 4-5 drops of this blend into each teaspoon of carrier oil (e.g. sweet almond oil)
Note: with acute pain, apply 1-2 drops of the blend directly on the affected area.