Beginning with the written word as early as the fifth millennium B.C. references to rosemary were found written in cuneiform on stone tablets. – from Ad Lunam Labs
Rosemary (rosmarinus officinalis)
Plant appearance: dense bush of thin branches with spike-like green leaves with grayish undersides
Parts used: leaves, twigs, flowers
It has been used throughout history for memory, used at weddings and funerals, and placed in prisoner's dock against "jail fever"
Oil appearance: colorless to pale yellow, slightly green-tinged
Therapeutic uses: muscle aches and pains, rheumatism, arthritis, muscle weakness or injury, headaches, migraines, gastric upset, abdominal spasm, respiratory conditions, sinus congestion, fluid retention, heavy legs, edema, cellulite, detoxifier, memory enhancement, general debility, acne, pimples, boils, abscesses, dandruff, hair loss
Precautions: best avoided during pregnanacy; do not use if you have high blood pressure; GRAS  Also note that adding oils to bath makes the surface slippery, so be careful!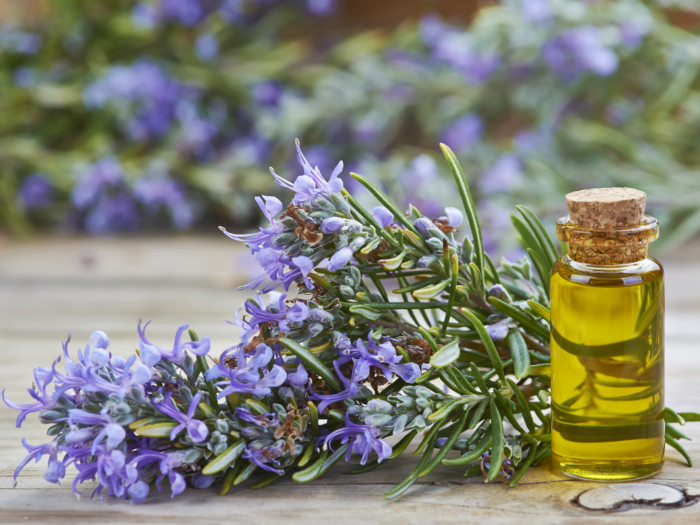 RECIPE
Cellulite Massage Oil Blend
–from Essential Oil Sanctuary
20 drops rosemary

20 drops fennel

15 drops juniper

15 drops grapefruit

5 drops geranium
Directions:
In a 5 mL (1/6 oz) glass bottle combine your essential oils and roll bottle to blend
Ways to use your Cellulite Massage Oil Blend
Below are a few ways you can make use of your massage blend.
Dry brushing: Before taking a shower or bathing sprinkle 1-2 drops of your cellulite massage blend onto a natural-bristle body brush. Using small circular motions brush your limbs up towards the heart (stimulating and improving circulation)

In the bath: While filling your tub with warm water take a small non-reactive bowl and combine 1 tsp (5 mL) milk (or castille soap) and 4-6 drops of your Cellulite Massage Oil. Add the mixture to the tub once it's filled. Agitate and disperse the oils then soak for 30 minutes, massaging any floating droplets of oil into your skin. Important: wait until the bath is filled to add your oils. Don't add under steaming, pouring water as the tub fills, to avoid evaporation of the oils.

Massage: In a small non-reactive bowl (or glass bottle) combine 4 tsp (20 mL) of grapeseed or sweet almond oil and 10 drops of your Cellulite Massage Oil. Mix your ingredients well and massage over your body, or ask your massage therapist to perform the massage for you with your mixture. If you are getting a massage from a masseuse try seeking out regular lymphatic massages.