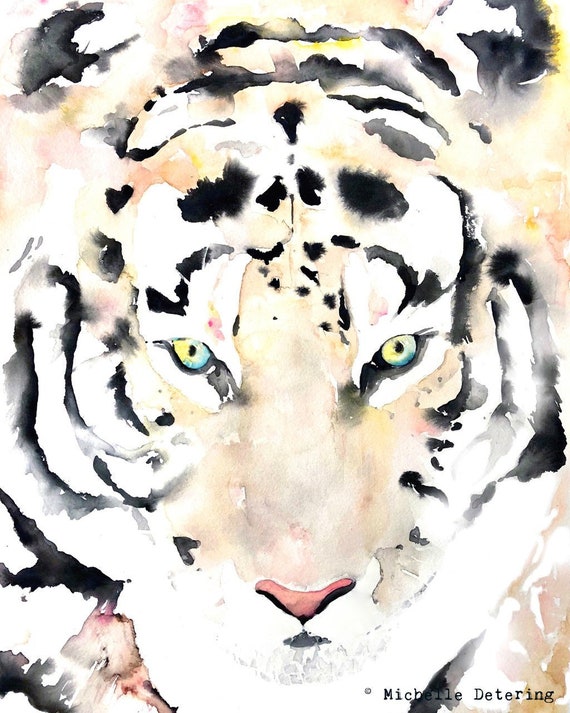 Three white tigers and a bear followed me in
after my sworn protector left for reasons unknown.
One tiger stood before me in sleek striped majesty.
Two with contrasting modes: my terror; her hunger.
Her instinct to kill vs. my instinct to survive.
Using tiger talk to distract all until able to steel my
nerve and my fist, I shoved my fist into her mouth.
I grabbed what else I could and shoved it in also.
Placated for the moment, she gave me a chance
to glance out of my window. I saw a figure in
the distance. Opening the window I yelled help,
back's skin crawling, waiting for death's claws.
The rescuer rushed in. I quickly said, "Please
don't hurt the animals." [Dream sequence end.]
Today's poem is based on a dream I had in mid-December. Sorting through papers on the table, I came across it yesterday. I usually don't like looking at standard dream interpretation databases but to expedite this I did.
Dreammoods.com say about protection: To dream that you are being protected or need protection indicates that you are feeling helpless in some situation. Life's difficulties has made you dependable on others. You need to start taking charge of the situation.
About tigers: To see a tiger in your dream represents power and your ability to exert it in various situations. The dream may also indicate that you need to take more of a leadership role. Alternatively, the tiger represents female sexuality, aggression, and seduction. In particular, if you dream of a white tiger, then it indicates that a state of tranquility. Despite whatever chaos is surrounding you, you are able to block it out and achieve peace with yourself. Alternatively, a white tiger symbolizes restraint. You are in full control of your emotions and your actions.To dream that you are attacked by a tiger refers to the emotions that you have repressed because you were afraid of confronting them.
About bears: To see a bear in your dream represents independence, strength, death and renewal, and/or resurrection. Bears are symbolic of the cycle of life. You may also be undergoing a period of introspection and thinking. The dream may also be a pun on "bare". Perhaps you need to bare your soul and let everything out into the open. Or there is a situation where you just need to "grin and bear it".To dream that you are being pursued or attacked by a bear denotes anger and uncontrolled aggression. You feel trapped. Perhaps you are in a threatening situation, some overwhelming obstacle or domineering and possessive relationship.
About rescue: To dream that you are being rescued or rescue others represents an aspect of yourself that has been neglected or ignored. You are trying to find a way to express this neglected part of yourself. Alternatively, it symbolizes an subconscious cry for help. Perhaps you are too proud in your waking life to ask for assistance.
There's also a lengthy part about what windows symbolize.
image link here
Peter Frankis is today's host at dVerse' Meet the Bar. Peter says:
So, come on poets, join me at the beginning. Let's find that best first line:
•see if you can hook yourself a new reader with vivid images and unusual word use
•maybe stick with tradition (starting top left) or forge out in a new direction, maybe even a one line, or even a one-word poem (though please read the wonderful article that I've linked to Saroyan's poem)
•perhaps try your hand at some found poetry, make something shapely or striking or something off the fridge
•or perhaps a poem beginning with a line by a poet who's provoked or enthralled or charmed or annoyed you (don't forget to link to the original poem in your post).