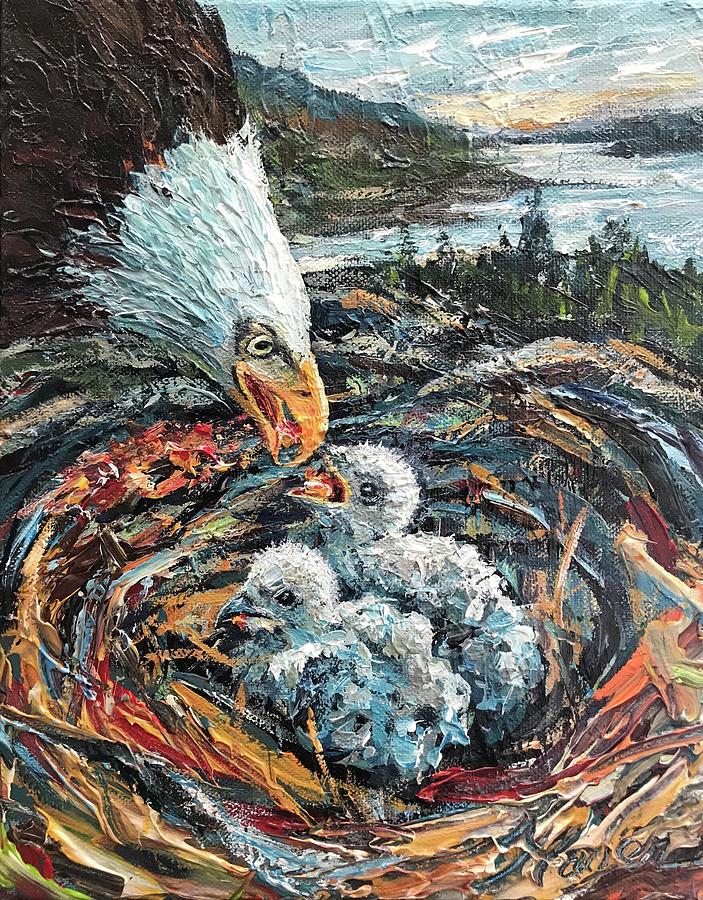 Not in the present tense and not experienced by me, but still relevant to the prompt, it is about an event that happened with Bob, my ex-boyfriend, and Chauncey, our Boston Terrier, on our sailboat a few years ago. Bob had buoyed offshore in the inland lake we live near. He noticed a bald eagle in the sky hunting. As he watched the eagle, it began a descent in hunt mode – headed right towards the boat, apparently targeting Chauncey! Bob lurched forward and nabbed Chauncey just as the eagle hit the water near the boat, then rose with a fish in her talons.
Hungry eaglets eat
as a small dog sleeps on deck —
sun-glittered water.
from Steve Miller's excellent album, "Born 2B Blue"
image:  "Eaglets at Sunrise #343," by Rhonda Hager.
Frank J. Tassone is today's host of dVerse' Haibun Monday. Frank says:
Let's write our haibun that references the Eagle, in whatever context I've mentioned, or that you conceive. For those new to haibun, the form consists of one to a few paragraphs of prose—usually written in the present tense—that evoke an experience and are often non-fictional/autobiographical. They may be preceded or followed by one or more haiku—nature-based, using a seasonal image—that complement without directly repeating what the prose stated.