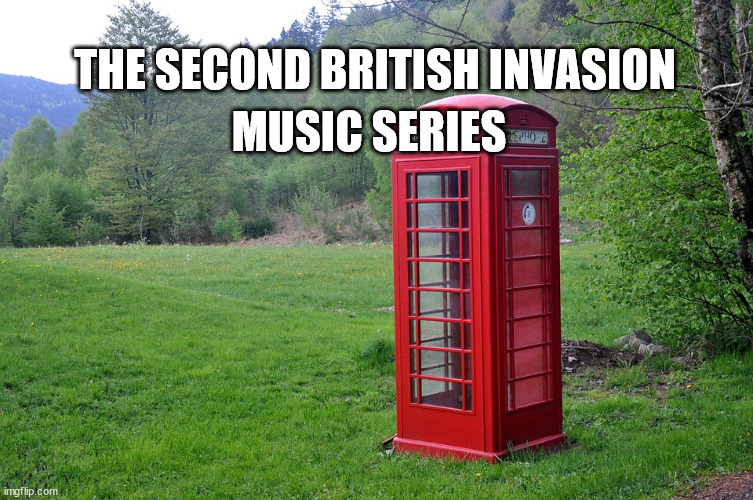 I've decided to start a new music series about the Second British music Invasion based on a box set, The Brit Box, 4 CDs, from Rhino Records (2007)  that has so much music I never knew about before. It will be a learning experience for me as we go through it. The plan is to go down the playlist in order and feature one song a week. There are 78 songs total. In addition, I have another CD, "The British Invasion: The Essential Album" that has 20 more songs on it, which, allowing for a few weeks of vacation in there, should take me 2 years to finish. It is my hope that any of you audiophiles out there who are well-versed in this marvelous era of music, will offer comments, trivia, etc. on the music to even further enhance this delectable feature. By the end of the 2-year sojourn, I hope to be way more educated in it right along with the readers.
My plan is to # them as they are numbered on the discs.
The Brit Box:  amazon UK reviewer "For Tomorrow 24" said this about the box set:
"I know that there are countless compilations on the market focusing on the wonderful musical phenomena that was Britpop, but how many do you know come housed in a very familiar (to us Brits) tall red telephone box with an actual on/off switch? The answer to that is only one, Rhino's four CD set 'The Brit Box'.

It's a great set of songs as well, offering up a massive 78 tracks recorded from 1984-1999, by some of the UK's biggest, and much more obscure acts. This gives newbies one hell of an introduction to this varied genre, from The Smiths to Gay Dad, you name it. Each artist is evenly respected with one track each, and the song choices are excellent. Secondary known hits such as Blur's 'Tracy Jacks', Oasis' 'Live Forever', and 'Laid' by James make for a refreshing change, whereas some artists such as Supergrass and Ash see their predictable songs 'Alright' and 'Girl from Mars' issued once again. The CDs offer a chronological journey, beginning with the '80s stars who started it all such as The Smiths, The Cure, Echo & The Bunnymen, The Stone Roses, and finishing off on disc four with the likes of Mansun and Placebo, and everything in between.

As for the product itself, it really is great, the unique design looks fantastic, with the four discs inside made to look like ash trays, and they have one to four cigarettes on them, depending on the CD numbers. There's also a great book also included in the deal, which details each band's contribution. All big fans of indie rock and Britpop music will lap all of this up. I'll happily confess that I've been in heaven since I purchased 'The Brit Box'. Don't be put off by the price, it's worth it dudes, every penny. "
I'm getting started on writing the posts on 6/20/21, but I'm scheduling this for Wednesday, September 1, 2021 in order to get fairly far ahead of things.  Looks like Wednesday will be the day each week to look for more.  
Be looking for the first song next Wednesday!