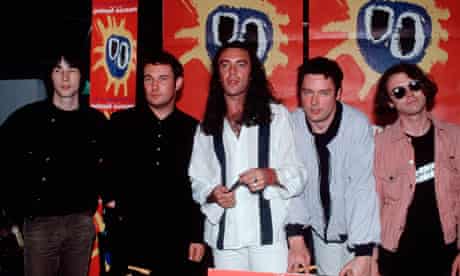 Primal Scream photo by Mick Hutson/Redferns
From wikipedia: Primal Scream are a Scottish rock band originally formed in 1982 in Glasgow by Bobby Gillespie (vocals) and Jim Beattie. At first, they recorded "elemental noise tapes", in which Gillespie would bang two dustbin lids together and Beattie played fuzz-guitar. They soon moved on to The Velvet Underground and The Byrds cover songs before starting to write their own songs, based on Jah Wobble and Peter Hook basslines. Gillespie later said that the band "didn't really exist, but we did it every night for something to do." They named themselves Primal Scream, a term for a type of cry heard in primal therapy. Still essentially a partnership, Primal Scream first played live in 1982. After an aborted recording, Gillespie joined The Jesus and Mary Chain as their drummer while continuing with Primal Scream also. Primal scream eventually expanded to include Robert "Throb" Young on bass, rhythm guitarist Stuart May, drummer Tom McGurk, and tambourine player Martin St. John.
I don't want to keep quoting large swaths of the biographies of these bands that are written by Stephen Thomas Erlewine, but he does such a good job! Instead I will include a link to his info at allmusic if you care to look at. For Primal Scream, you will find it here. I will include just a small piece of it as it pertains to today's song:
As the '80s drew to a close, Britain's underground music scene was dominated by the burgeoning acid house scene. Primal Scream became fascinated with the new dance music, and they asked a friend, a DJ named Andrew Weatherall, to remix a track from Primal Scream, "I'm Losing More Than I'll Ever Have." Weatherall completely reworked the song, adding a heavy bass groove echoing dub reggae, deleting most of the original instrumentation (even the layers of guitars), and interjecting layers of samples, including lines of Peter Fonda's dialogue from The Wild Angels. The new mix was titled "Loaded," and it became a sensation, bringing rock & roll to the dance floor and dance to rock & rollers.
Tidbits:
I'll be honest with you when I say that I like the original better than the remix, but I understand why the remix was important for helping to put Primal Scream on the radar.
"Loaded" is a remix of, "I'm Losing More than I'll Ever Have," which is the 5th track on, "Primal Scream," their second studio album, released in September of 1989. "Loaded" was released in February 1990 as the lead single from their third studio album "Screamadelica," released in 1991 and the 7th track on it.
At the start of the song, Weatherall added an audio sample of Frank Maxwell and Peter Fonda from the film The Wild Angels. The rest of the song is constructed from the parts of "I'm Losing More Than I'll Ever Have", with a vocal sample from The Emotions' "I Don't Want to Lose Your Love", and a drum loop from an Italian bootleg remix of Edie Brickell's song "What I Am", plus Bobby Gillespie singing a line from Robert Johnson's "Terraplane Blues".
The single was released in February 1990, 18 months before the arrival of Screamadelica. It was around 3 minutes shorter than the album version.
"Loaded" reached number 16 on the UK Singles Chart, making it the group's first UK top 40 hit and garnering them a first appearance on television chart show Top of the Pops.
In 2014, NME placed the song at number 59 in its list of the 500 Greatest Songs of All Time.
Guitarist Robert Young, who started with the band on bass and began playing guitar in 1999 and was part of the band until leaving the band in 2006, passed away in 2014.
Just what is it that you want to do?
We wanna be free, we wanna be free to do what we wanna do
And we wanna get loaded and we wanna have a good time
That's what we're gonna do, no way, baby, let's go
We're gonna have a good time, we're gonna have a party
I don't wanna lose your love, I don't wanna lose your love
I don't wanna lose your love, I don't wanna lose your love
Just what is it you wanna do? I'm gonna get deep down, deep down
I said I'm gonna get deep down, deep down, woo, hey!
We wanna be free to do what we wanna do, no way, baby, let's go!
I don't wanna lose your love, I don't wanna lose your love
We wanna be free to do what we wanna do, ahhh, yeah
We wanna be free to do what we wanna do
I don't wanna lose your love, I don't wanna lose your love
I don't wanna lose your love, I don't wanna lose your love
Songwriters: Bobby Gillespie, Andrew Innes and Robert Young
Also, because I really was curious about how the song was so radically changed from what it originally was to what it became after the remix, I went youtubing and found this 6 minute or so video that explains how it happened: