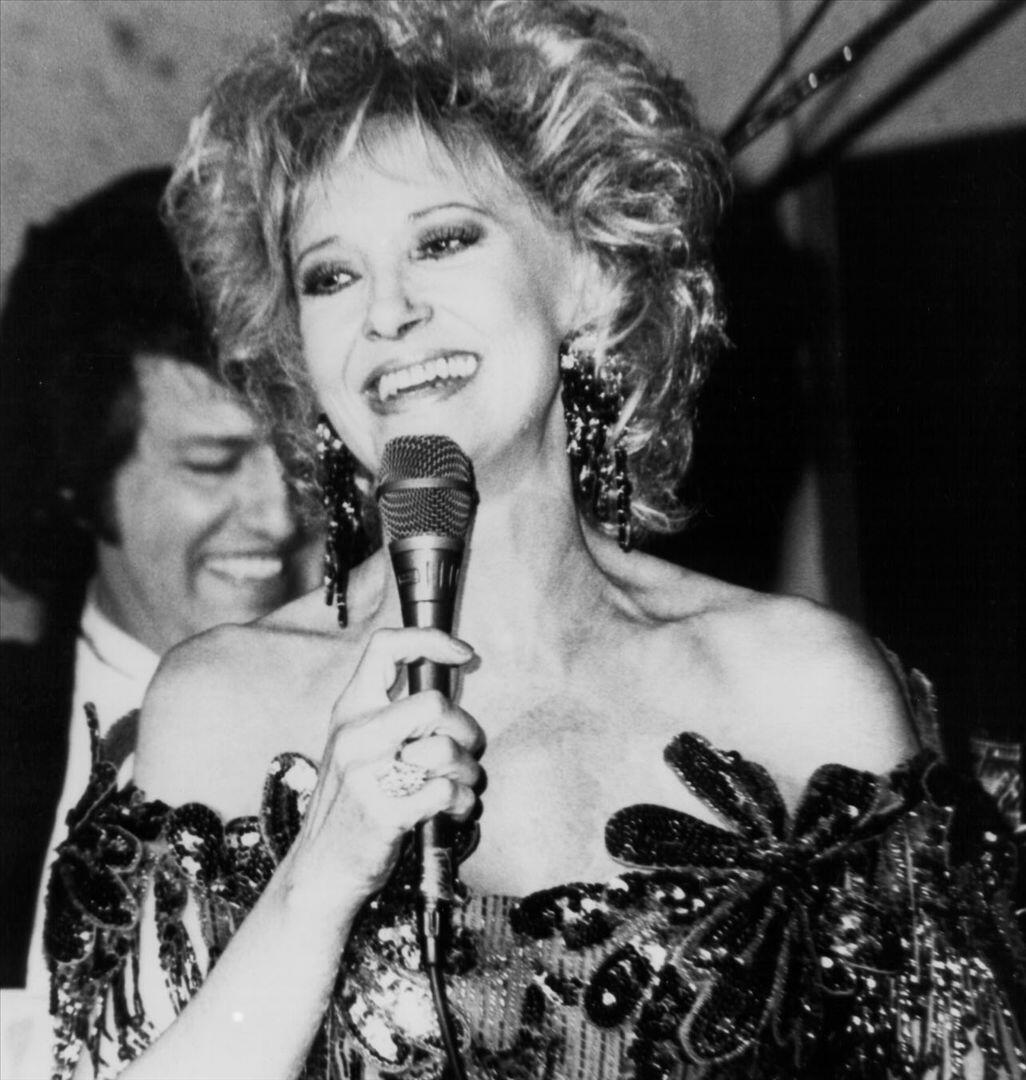 Tammy Wynette (born Virginia Wynette Pugh; b. 5/5/42 – d. 4/6/98) was an American country music singer-songwriter and musician and was one of country music's best-known artists and biggest-selling female singers during the late 1960s and first half of the 1970s.
Wynette was called the "First Lady of Country Music", and her best-known song is "Stand by Your Man." Many of her hits dealt with themes of loneliness, divorce, and the difficulties of life and relationships. During the late 1960s and early 1970s, Wynette charted 20 number-one songs on the Billboard Country Chart. Along with Loretta Lynn, Lynn Anderson, and Dolly Parton, she is credited with having defined the role of women in country music during the 1970s.
While working as a hairdresser in Midfield, Alabama, in 1965, Wynette sang on the Country Boy Eddie Show on WBRC-TV in Birmingham, which led to performances with country music star Porter Wagoner. In 1966, she moved with her three daughters (Gwen, Tina, and Jackie) from Birmingham to Nashville, Tennessee, in hopes of landing a recording deal. After being turned down repeatedly she auditioned for Epic Records producer Billy Sherrill. Initially reluctant to sign her, Sherrill found himself in need of a singer for a tune written by Bobby Austin and Johnny Paycheck, "Apartment No. 9". Upon hearing Wynette's version he was impressed and put her under contract.
Wynette's first single, "Apartment No. 9" , was released in December 1966, and just missed the top 40 on the Country charts, peaking at number 44. It was followed by "Your Good Girl's Gonna Go Bad", which became a big hit, peaking at number three. The song launched a string of top-ten hits that ran through the end of the 1970s, interrupted only by three singles that didn't crack the Top Ten. After "Your Good Girl's Gonna Go Bad" was a success, "My Elusive Dreams", a duet with David Houston, became her first number one in the summer of 1967, followed by "I Don't Wanna Play House" later that year. "I Don't Wanna Play House" won Wynette a Grammy award in 1967 for Best Female Country Vocal Performance, one of two wins for Wynette in that category.
During 1968 and 1969, Wynette had five number-one hits: "Take Me to Your World", "D-I-V-O-R-C-E", "Stand by Your Man" (all 1968), "Singing My Song", and "The Ways to Love a Man" (both 1969.) "Stand by Your Man" was reportedly written in the Epic studio in just 15 minutes by Billy Sherrill and Wynette.
During the early 1970s, Wynette, along with singer Loretta Lynn, ruled the country charts and was one of the most successful female vocalists of the genre. During the early 1970s, number-one singles included "He Loves Me All the Way", "Run Woman Run" and "The Wonders You Perform" (all from 1970), "Good Lovin' (Makes it Right)", "Bedtime Story" (both 1971) "My Man (Understands)", "'Til I Get it Right" (1972), and "Kids Say the Darndest Things" (1973). One of them, "The Wonders You Perform", was a hit in Italy in 1971, thanks to Ornella Vanoni, who recorded the song in an Italian version, "Domani è un altro giorno" ("Tomorrow is another day"). Concurrent to her solo success, a number of her duets with fellow country singer George Jones reached the top ten on the U.S. country singles charts during this time, including "The Ceremony" (1972), "We're Gonna Hold On" (1973), and "Golden Ring" (1976). In 1968, Wynette became the second female vocalist to win the Country Music Association Awards' "Female Vocalist of the Year" award, later winning an additional two other times (1969, 1970.) For nearly two decades, Wynette held the record for most consecutive wins, until 1987 when Reba McEntire won the award for the fourth consecutive time.
Discography:
Tammy alone:
| | |
| --- | --- |
| Studio albums | 33 |
| Compilation albums | 21 |
| Box sets | 1 |
| Other album appearances | 6 |
George Jones and Tammy Wynette:
| | |
| --- | --- |
| Studio albums | 9 |
| Compilation albums | 5 |
| Music videos | 1 |
| Singles | 14 |
Some things to share:
Wynette was born near Tremont, Mississippi, the only child of Mildred Faye (née Russell; 1921–1991) and William Hollice Pugh (1916–1943.) Her father was a farmer and local musician who died of a brain tumor when Wynette was nine months old. Her mother worked in an office, as a substitute school teacher, and on the family farm. At Pugh's death, Mildred left her daughter in the care of her parents, Thomas and Flora Russell, and moved to Memphis, Tennessee to work in a defense plant during World War II. The Russell home had no indoor toilets or running water. Wynette was raised with an aunt, Carolyn Russell, who was only five years older, more like a sister than an aunt. As a girl, Wynette taught herself to play a variety of musical instruments her father had left behind.

George Jones and Tammy Wynette (1969)
Wynette's marriage to country music singer George Jones in 1969 created a country music supercouple, following the earlier success of Johnny Cash and June Carter Cash. Though they divorced in 1975, the couple recorded a series of albums and singles together that hit the charts throughout the 1970s and early 1980s.
Jones and Wynette had one daughter together, Tamala Georgette, born in 1970. Georgette Jones has, in recent years, become a successful country music artist who frequently pays tribute to her mother at her shows.
Official website: here
Now, ONE OF THE GREATEST SONGS OF ALL TIMES:
Sources: wikipedia