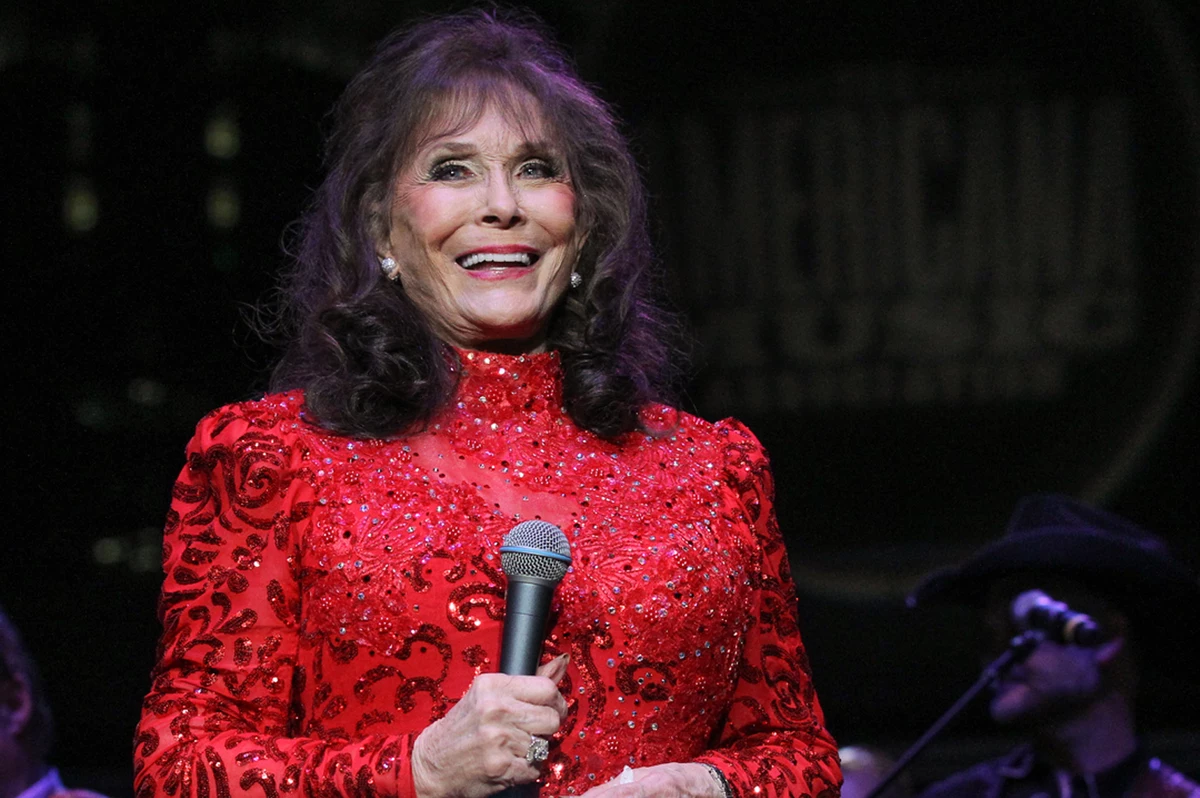 Loretta Lynn pic taken in 2017
Loretta Lynn (née Webb; born April 14, 1932) [and recently passed away yesterday, 10/4/22] is an American country music singer-songwriter with multiple gold albums in a career spanning 60 years. She is famous for hits such as "You Ain't Woman Enough (To Take My Man)", "Don't Come Home A-Drinkin' (With Lovin' on Your Mind)", "One's on the Way", "Fist City", and "Coal Miner's Daughter" along with the 1980 biographical film of the same name.
Lynn has received numerous awards and other accolades for her groundbreaking role in country music, including awards from both the Country Music Association and Academy of Country Music as a duet partner and an individual artist. She is the most awarded female country recording artist and the only female ACM Artist of the Decade (1970s). Lynn has scored 24 No. 1 hit singles and 11 number one albums. [Up until her death] Lynn continues to tour, appear at the Grand Ole Opry and release new albums.
At the height of her popularity, some of Lynn's songs were banned from radio airplay, including "Rated "X"", about the double standards divorced women face; "Wings Upon Your Horns", about the loss of teenage virginity; and "The Pill", with lyrics by T. D. Bayless, about a wife and mother becoming liberated by the birth-control pill. Her song "Dear Uncle Sam", released in 1966, during the Vietnam War, describes a wife's anguish at the loss of a husband to war. It was included in live performances during the Iraq War.
Lynn was awarded the Presidential Medal of Freedom by Barack Obama In 2013.
While a recognized "advocate for ordinary women", Lynn has often criticized upper-class feminism for ignoring the needs and concerns of working-class women. She once stated,
"I'm not a big fan of women's liberation, but maybe it will help women stand up for the respect they're due".
Lynn allowed PETA to use her song "I Wanna Be Free" in a public service campaign to discourage the chaining of dogs outside.
You're Lookin' at Country is Loretta's eighteenth solo studio album, released on September 20, 1971. The title track peaked at #5 on the Billboard Hot Country Songs and reached #1 on the Canada Country Tracks chart on RPM.
Lynn wrote "You're Lookin' At Country" in response to viewing the open country while touring on the road. Lynn said in an interview that she was inspired by all the meadows and hills that she saw while passing through the country to write this song. The song was unlike anything Lynn had been releasing at the time, besides "Coal Miner's Daughter" from the previous year. This was because the song did not speak of the common subjects Lynn often used in her songs, such as drunk husbands, adultery, and fighting back.
I had to write 'You're Lookin' At Country' as a love song or it wouldn't sell,
Lynn told Jimmy Guterman in the liner notes for the 1994 box set Honky Tonk Girl: The Loretta Lynn Collection.
But it wasn't a love song. I got the idea from looking at my land. I wanted to write what I saw.
In the 1980 motion picture biography of Lynn, Coal Miner's Daughter, Sissy Spacek (who plays Loretta) sings "You're Lookin' At Country" during a concert twice in the film. Spacek sang Lynn's hits herself, and later won an Academy Award for doing so.
Carrie Underwood covered the song as part of the Loretta Lynn tribute album, Coal Miner's Daughter: A Tribute To Loretta Lynn, released on November 9, 2010.
Lynn performed the song at the 2014 Country Music Association Awards along with fellow country singer Kacey Musgraves.
Well I like my lovin' done country style
And this little girl would walk a country mile
To find her a good old slow talkin' country boy
I said a country boy
I'm about as old fashioned as I can be
And I hope you're lik'in what you see
'Cause if you're lookin' at me
You're lookin' at country
You don't see no city when you look at me
'Cause a country is all I am
I love runnin' bare footed
Through the old corn fields
And I love that country ham
Well you say I'm made just to fit your plans
But does a barnyard shovel fit your hands
If your eyes are on me
You're lookin' at country
This here country is a little green
And there's a lot of country that a you ain't seen
I'll show you around if you'll show me a weddin' band
I said a weddin' band
When it comes to love
Well I know about that
Country folks all know where it's at
If you're lookin' at me
You're lookin' at country
You don't see no city when you look at me
'Cause country is all I am
I love a runnin' bare-footed
Through the old cornfields
And I love that country ham
Well you say I'm a made just to fit your plans
But does a barnyard shovel fit your hands
If your eyes are on me
You're lookin' at country
If your eyes are on me
You're lookin' at country
Songwriters: Loretta Lynn