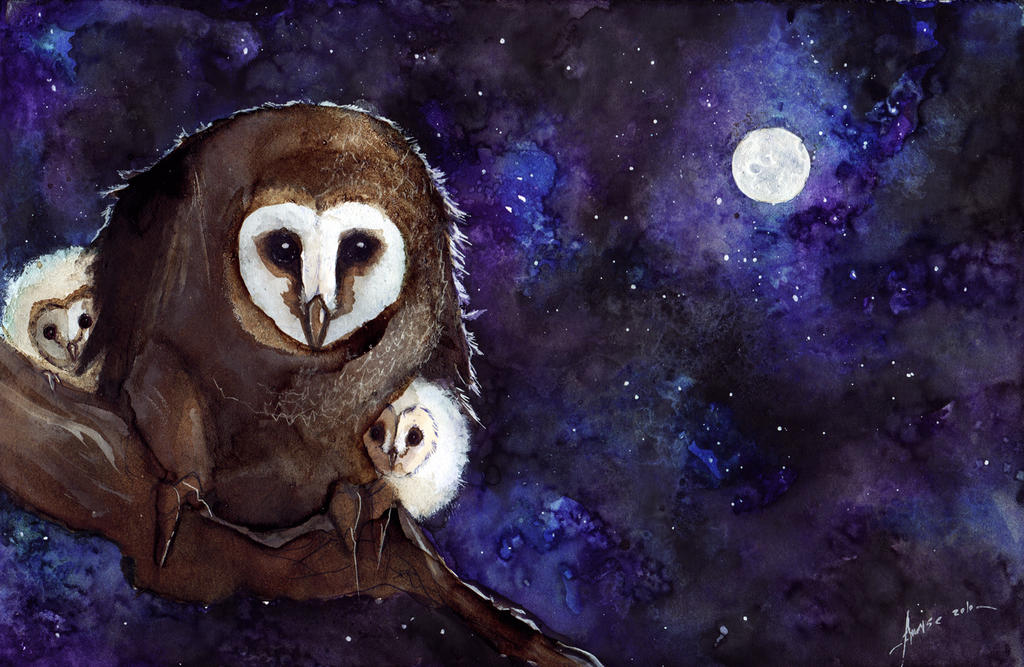 baby space owls by arumise
Jean was given her assignment by D.W.W. She and Hicks were allowed to leave. The other two men remained entranced, proverbial flies wrapped in silk, waiting for their captor's hunger. The irony of D.W.W. drinking blood yet being a non-violent stranded ET was difficult for any human and for the ET herself to reconcile. As before, Jean hid under the tarp and they left the premises without incident. Instead of risking too many questions at the hacienda, the two checked into a hotel by the airport, using fake names and cash. Charging her phone while searching the Thebes phone book online, she found, "The Seeing Spider," and dialed the number.
Osiris' voice said, "I know why you've called. Make my plane reservations for tomorrow morning. I'll be there in two days. What hotel and room are you staying at?"
Jean found it difficult to speak. "Why did you lie to us, Osiris? And why are you doing this?"
Osiris said, "I did what I had to for us to get to just this place. And I think you know why I'm doing it. Mother Owl is right about two things. One is that humans don't have the proper dispositions to handle the power that is contained in the mask. The other is that as long as she and her kind are here on earth, they will continue feeding off of innocent people, and that is unacceptable. We could take the usual brutish human path and simply destroy the mask and use Mother Owl as a research subject. I prefer trying a more noble path of giving her the mask and letting them go."
Jean told him the hotel and the room number and the conversation was over.
Hicks, who was back to himself now, said, "What did Osiris say?"
He will be here, at this hotel, in two days with the mask. Jean turned to look at him and said in a quiet voice, "There is more than one Mother Owl."
"Mother Owl!?!" he reached for his amulet, pulled it off, and threw it across the room.
Hicks, who was already a traitor in the eyes of the government and a whole lot of other people, had also seen the beast up close, felt it crawling around in his mind, felt its power, and saw what it did to Fonz' neck. He wasn't sure about the truth of its use by BTU meaning the end of the planet, but would it be so bad to have this bloodthirsty beast and its kind gone? And the idea of sacrificing Marty, Jean's soulmate, and Fonz, was not something he could rationalize as acceptable.
"Things could be worse, I guess, but I'm not sure quite how." said Hicks.
Lt. Machete and Professor Sadek waited for emergency room personnel to clean Mr. Gomes up, stitch the gaping wounds in his neck, and run full bore blood and saline IV transfusions into his dehydrated body. He was also placed on a low-morphine drip to keep him calm and prevent convulsions as he came out of his extended stupor. They followed the orderlies as they wheeled his bed to the Intensive Care Unit (ICU.) Gomes was sleeping. After the assigned nurse came in to check his vitals and make sure all of the needles and tubes were properly in place and operating, the nurse left them. Prof touched Gomes' arm and said, "Are you awake?"
Gomes' eyes flew open, his face a mask of contorted terror. "Leave me alone!!!!!!!" he screamed. The machine that monitored vitals reflected the terror as the numbers and lines jumped and squiggled. The nurse came in and said, "I'm sorry, you will have to leave. You are endangering this patient's health."
"OK OK," said Lt. Machete.
They headed back to HQ with plans to come back in the morning, which by this time, was just a few hours away. Walking into the hub of the comms center, Machete said, "Any updates?"
He and Prof were informed that Marty and Jean had not come back to the hacienda and that Hicks had gone to the warehouse, been there a couple of hours, and then left. The two looked at each other and it was clear their mental gears were clunking at the sand that had just been thrown into them.
"Those damned kids! And Hicks knows better!" said Machete, as he dialed Hicks.
Hicks answered.
"Corporal, you need to explain yourself and you need to do it quick and that's an order. You're flirting with court martial and prision militar/military prison." said Lt. Machete.
"I'm sorry, sir, I can't explain it right now. I know it's insubordination at minimum but I can't say more," said Hicks and hung up. He quickly pulled the phone's sim card out and ground it under his boot, then mashed the rest of the phone.
"Jean, I would do the same with your phone. We can't take any chances. Osiris knows where we are and that's all that matters."
Jean did as Hicks suggested and said, "speaking of calling, I need to call Aunt Rosa and Uncle Ricky to let them know what's going on." Instead of using the hotel phone, which could be traced by caller ID, they went to the other side of the city and borrowed a bar phone. She explained that Marty and Fonz were safe. She wanted to tell them that everything would be OK but it would take a couple of days. They weren't happy with the minimal information but both parents cried with relief that their loved ones were OK.
They headed back to the hotel and waited…
TWO DAYS LATER
A short rap on the hotel door announced the arrival of Osiris and Ismael. Osiris wore an exquisitely cut camel hair suit, a brown silk shirt, and a cream-colored fedora; Ismael a butter yellow silk suit, white ruffled shirt with a mandarin collar, and a black beret. Both toted carry-on bags. As there was no metal in the mask, it had passed through screening as a souvenir.
Osiris pulled the mask out of the bag and Jean felt her whole body tingle.
"How?!" she asked, eyes fixated on the stone and crystal.
"As I told you before, my business means I've got connections everywhere. Also, the number of devotees of Mother Owl is greater than you can imagine. We want to see her and her kind be able to return to their home planet. I'm also a bit selfish. You see, Mother Owl has agreed to take me with her. I was never meant for this world either, and I have been promised a safe place to learn and age out peacefully. Ismael wants to go also, but that is up to Mother Owl."
"What do you mean, 'up to Mother Owl'? You don't plan on seeing her, do you? That will be a bit difficult considering where she is," said Jean.
"You let us worry about that, Dear Jean." said Osiris. "Shall we go?"
Looking at a GPS map of the area on his phone, Osiris directed Hicks to drive to the street that was directly behind the warehouse. Mercy Street was a good half-mile away, with open fields owned by the facility between. They all could feel her in their minds. Osiris communicated their location to her.
Lt. Machete had ordered the surveillance agents of both cams and on site to notify him if Cpl. Hicks was spotted anywhere near the three buildings. Machete got a call. They'd spotted Hicks behind the warehouse but some blocks away from it.
"All agents converge on Hicks' location. Apprehend him alive if possible."
She exited the building, flew swiftly to them, and took the mask. Osiris asked if Ismael could travel with them. She looked at Ismael and asked, "Do you have him?" Ismael held up the bag and nodded. "How could I say no?" "Wait here."
She flew back to the warehouse and disappeared into the outflow vent.
She was out of sight by the time the agents converged on their vehicle, weapons drawn. Hicks was handcuffed. He looked at Jean and said, "We done good."
As the agents approached the other three, weapons holstered, Osiris said, "My good soldiers, it's an appropriate time for me to ask, what business do you have with us? You got your man."
"We want you for questioning," said one of the agents.
"May I please ask you to call your superior and confirm your authority to do so? You see, we are not trespassing on private property. Further, I and my traveling companion have diplomatic immunity in Mexico."
The agent called Machete and shared the information. Machete told the agent not to touch them, but to assign two agents to keep an eye on them. Two agents were to bring Hicks to the brig after arresting him, and the rest were to go back to their surveillance posts.
The pulsing blast thundered, igniting the back of the warehouse with white light and black smoke. Rising up and out of it from the basement, was D.W.W.'s spacecraft. Those watching were stunned, at first with shock, and then with the mind of Deity-With-Wings. The craft looked like it was made from stone, but not like any they had ever seen before. Its lights were like magnificent amber stones that looked alive and observing them. Hovering above them now, a panel in its belly opened.
Osiris looked at Jean and said, "It's time to say goodbye. May we meet again in this life, on this planet, or some others." He reached out and hugged her, and Jean hugged him back. She looked at Ismael and he nodded, his face glowing with joy.
A tractor beam pulled them and their carry-ons up, up, up, and into its belly. And then it seemed to dematerialize and was gone.
Jean, Hicks, Marty, and Fonz heard her voice say, "Be well. Your planet will stay a beautiful blue-green jewel. That said, you as a species will have to work your hardest to keep it that way."
"Where are the rest of your kind on the planet?" asked Jean.
"Earth woman, we've all been living in the warehouse, and we are all aboard, even the remains of my mate and who was also my co-pilot; the one you called Boney. Speaking of mates, yours are ok, as I promised. Farewell."
THE END
Please note:  there are no costumes in this chapter.
If you've stayed with the story all month, THANK YOU for reading.  Even if you caught just a few chapters and made comments, much appreciated.
Also:
To read this story from the beginning, start here and follow #tshalloweenchallenge tag to find the other parts.  3 chapters are out of place (4, 6, and 7, iirc) but you'll find them listed farther down.  All chapters should be linked up to Part 1's post.

Again, THANK YOU for reading, and I hope you enjoyed it as much as I did writing it.  Each day was a new writing adventure and I thank The Muse for providing its bounty.
Feedback is welcomed and encouraged.  I'd really like to know what you liked, disliked, and any other feedback you care to share.  Your feedback helps me grow as a writer.