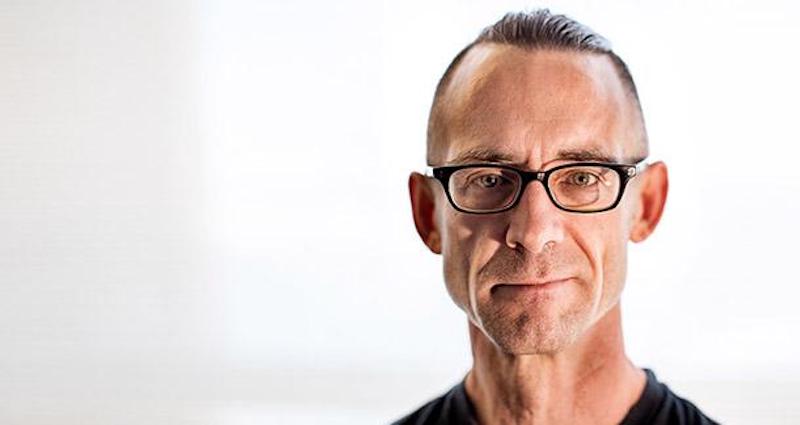 Chuck Palahniuk
Charles Michael "Chuck" Palahniuk (b. 2/21/62) is an American novelist who describes his work as transgressional fiction. He has published 19 novels, three nonfiction books, two graphic novels, and two adult coloring books, as well as several short stories. His first published novel was Fight Club, which was adapted into a film of the same title.
Chuck was born in Pasco, Washington, the son of Carol Adele (née Tallent) and Fred Palahniuk. He has French and Ukrainian ancestry. His paternal grandfather migrated from Ukraine to Canada and then to New York in 1907. Palahniuk grew up living in a mobile home in Burbank, Washington. His parents separated when he was 14 years old, and they subsequently divorced, often leaving him and his three siblings to live with their maternal grandparents at their cattle ranch in eastern Washington. Palahniuk attended the University of Oregon in his 20s, graduating in journalism in 1986. He interned at the local public radio station, KLCC, as part of his coursework.
He wrote for the local newspaper for a short while but then began working for Freightliner Trucks as a diesel mechanic, continuing until his writing career took off. During that time, he wrote manuals on fixing trucks and had a stint as a journalist, a job to which he did not return until after he became a successful novelist. After casually attending a seminar by Landmark Education, Palahniuk quit his job as a journalist in 1988. He performed volunteer work for a homeless shelter and volunteered at a hospice as an escort, providing transportation for terminally ill people, taking them to support group meetings. He ceased volunteering upon the death of a patient to whom he had grown attached.
Palahniuk began writing fiction in his mid-30s. By his account, he started writing while attending workshops for writers that were hosted by Tom Spanbauer, which he attended to meet new friends. —wikipedia