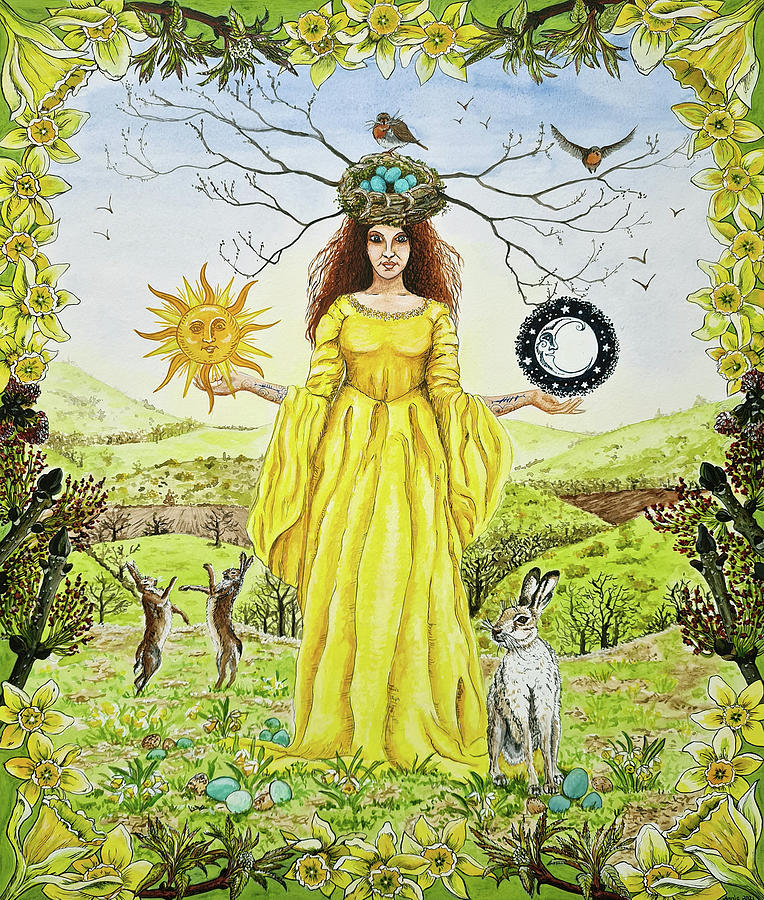 'OSTARA – Spring Equinox' is a painting by Annie Louvaine
Celebrating the Spring Equinox festival on the Pagan wheel of the Year. Represented by the Goddess Ostara her story goes that she found a frozen bird, she brought it back to life by transforming the dead bird into a Hare. each year the Hare lays coloured eggs for the Goddess in gratitude for her kindness. These symbols of course represent the rebirth and transformational forces of nature that are occurring at this time of year.  — Annie Louvaine
vernal equinox approach
winter, weary, drains account
duet, two seasons knitted
from the deep a virid fount
snow crust mantle gurgles slush
squirrels wake, tree nest peering
from the deep a virid fount
duet, two seasons knitted
when robin wings furl, hungry
worms are sleeping, not about
duet, two seasons knitted
from the deep a virid fount
when Persephone returns,
crocus, snowdrops sprout, gifted
from the deep, a virid fount
duet, two seasons knitted
The Mirrored Refrain is rhyming verse form constructed by Stephanie Repnyek.
Ingrid is today's host of dVerse' Poetics. Ingrid says:
I urge you to write the poetry of the places and/or spaces which inspire you the most.
The time of seasonal change remains one of the most inspirational for me. How it happens gradually is a gentle reminder for patience in all things.
Colleen Chesebro is the host of Tanka Tuesday. Colleen says use synonyms only of these two words:            
spring & green