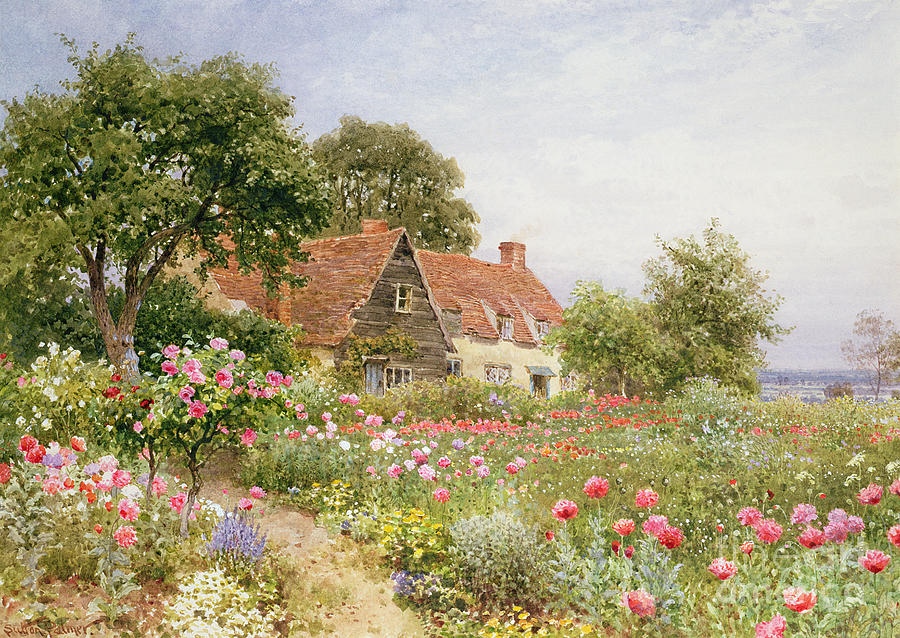 "A Cottage Garden," by Henry Sutton
Grandpa and Grandma lived at the bottom of a hill where three dirt roads converged. Their home had been Grandpa's parents and cobbled together from a number of summer cottages that had been along Mxxx Lake and moved a mile or so around the 1940's to its acre of land. It was an improvement on the little shack with an outhouse that they had been living in on East Bxxxxxxx when they moved in to take care of Great Grandma.
The house was situated on the edge of a marsh, with only three neighbors: Old Tom & Katie Nxxxx; Grandpa's brother, Uncle Bxx and his Australian shepherd mix dog, Gussy; and Mr. & Mrs. Pxxxx and their three sons, Dxxx, Kxxx, and Bxxx. Mr. Pxxxx was a biology instructor at the community college, and Mrs. Pxxxx did seasonal plant sales in their greenhouse.
Across the marsh rose Mxxxxxxxx, a terraced and lushly landscaped cemetery. My cousins and I, who spent a lot of time at our grandparents' place, would walk a trail between edge of the tall cattails and muskrats marsh and the chain link fence of the water filtration plant. We'd come out on the other side to the road winding up to the cemetery.
Grandparents and home
long gone; marsh reclaims its turf —
headstones remember.
Frank Tassone is today's host for dVerse' Haibun Monday. Frank says:
Write a haibun that alludes to memory.
I've xxxxed out names and places.  Couldn't find a good pic of their place and so used an internet pic that kinda sorta resembles where they lived.