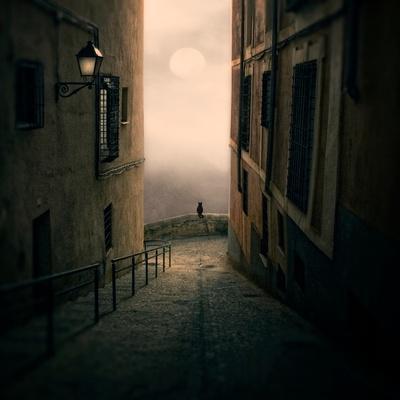 In their dreams

they sleep with the moon.
–From Mary Oliver, "Death at Wind River"
Once pampered, now refugees, at dawn they slink in grimy, forgotten shadows of Oldtown to their den until dusk falls. Their fortress is woven with plastic, glass, and metal discarded by the giver-of-treats who will never again pet their once-luxurious fur. Mlady and Dotty, who before competed fiercely for their mistress' favor, now curl together for warmth and comfort. In their dreams they sleep with the moon.
A whiskey bottle shatters like an alarm clock.
Mid-September's chilled evening lessens the stench, but food is still easy to find. The real danger lies in becoming prey for the other night hunters: winged, clawed, two-legged. Hugging darkness, pupils black holes, Mlady spies food and gives a chirp for Dotty to follow.
The arm of a Covid-19 casualty has been tossed aside by bigger predators. Still fresh, they drag it behind a dumpster and begin to eat.
[144 words]
Merril is today's host for dVerse. Merril says:
Write a piece of flash fiction or other prose of up to or exactly 144 words, including the [quote at the top.]
Image: "A Cat Watching the Moon in a Dark Street" by Luis Beltran