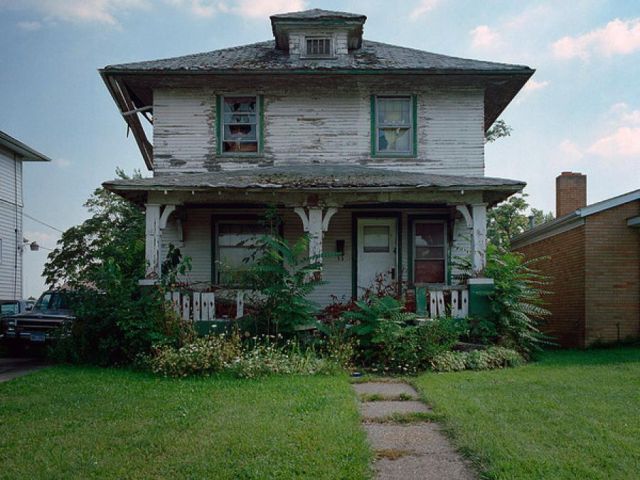 Vinyl siding that covers ant-chewed planks,
chipped and broken from bottles and baseballs.
Concrete steps, cracked from earth-settling, chip-
ped when the second-hand fridge got delivered.
All windows glass dusty panes, except one's plastic;
the flaked painted molding shows rot, disintegration.
The door is hollow core, with many ghosts of locks,
kick holes towards the floor of the bare wood porch.
Children's piercing screams welcome me, the friendly
visitor, as I knock once, twice, then thrice.
"Oh, it's you. Come on in. Take off your shoes."
A mangy-looking cat curls around my legs
and a too-quiet pit bull walks up to sniff my crotch.
"Do you mind putting the dog away?"
"Don't worry, he's friendly."
"To you," (I say, to myself.)
The six year-old, wearing shorts and a goodly portion of mud,
grabs, "King's" collar and leads him through an obstacle course
of broken toys, drying feces and hairballs, junk food packages,
mounds of dirty laundry, and away.
The baby in the grubby playpen wears a saggy, smelly diaper
and holds a bottle of what looks like curdling milk,
his saucer eyes red from crying. I can see his ribs.
I sock-feet the gauntlet to the couch with broken springs sticking out
and open the folder in my hand that has forms with questions.
She's in the kitchen and yells out, "Go ahead and start."
She's open, honest, and doesn't realize that her answers
are giving me the ammunition needed to take even
this humble dump – and her children – away from her.
random image found here
Laura is today's host for dVerse' Poetics.  Laura wants us to write about an imaginary house.  I wrote one yesterday about my dream house(boat.)  This one is not about any house in particular except in my head.  It's a composite of many houses I've been in during my government job (now retired.)  It's about the house but it's about so much more (as you can see.)